May 01, 2015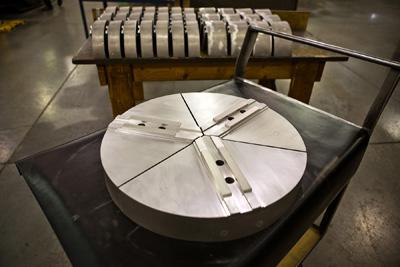 Dillon aluminum full grip jaws, available from 5 to 24 inches in diameter, are ideal for machining of thin walled parts. These cast aluminum (356-T6) wrap around type top jaws can provide minimum jaw force and distribute the gripping pressure over more of the work piece's surface — helping to maintain repetitive accuracy. This type of jaw reduces distortion and provides more friction for drive during turning operations. With close tolerances and concentricity easily maintained, they are ideal for applications such as valves, cylinders, specialty wheels and gears, housings and enclosures, adaptors and connectors, aluminum and steel shells, flanges, retainer rings, and other thin-walled parts such as automotive smog control air pump rotors, gas turbine parts, thin-wall tubing and cylinder liners for diesel engines and more.
Dillon aluminum full grip top jaws feature excellent corrosion resistance, with good machining and welding characteristics. They are available from stock in both standard height and extra high jaws. The A in front of an alloy designation denotes a higher purity version of the chemical compound. They can be adapted to mount both manual and power chucks. Lighter weight Dillon full grip top jaws reduce mechanical stress, for improved machine and tool life.
Related Glossary Terms
corrosion resistance


corrosion resistance

Ability of an alloy or material to withstand rust and corrosion. These are properties fostered by nickel and chromium in alloys such as stainless steel.

turning


turning

Workpiece is held in a chuck, mounted on a face plate or secured between centers and rotated while a cutting tool, normally a single-point tool, is fed into it along its periphery or across its end or face. Takes the form of straight turning (cutting along the periphery of the workpiece); taper turning (creating a taper); step turning (turning different-size diameters on the same work); chamfering (beveling an edge or shoulder); facing (cutting on an end); turning threads (usually external but can be internal); roughing (high-volume metal removal); and finishing (final light cuts). Performed on lathes, turning centers, chucking machines, automatic screw machines and similar machines.