December 13,2013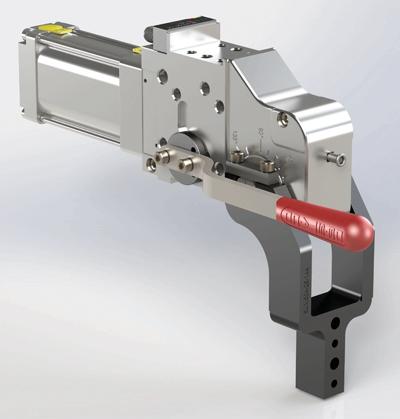 The new 82M-3E Series of enclosed pneumatic power clamps from DE-STA-CO provides automotive and sheet metal processing customers with superior holding power in a versatile, user-friendly and low-maintenance package. This full line of lightweight aluminum power clamps includes four sizes: 40mm, 50mm, 63mm and 80mm. The 82M-3E Series is well suited for a number of applications, including manual and automated fixture welding, positioning and locating.
All of DE-STA-CO's 82M-3E Series power clamps feature infinite arm opening adjustment with the opening angle range from 0 to 135 degrees. The angle is easily adjusted in just seconds from behind the clamp. Not only does this patent-pending design feature save time, it also means 82M-3E power clamps require less space, allowing fixtures in which they're installed to be lighter and more ergonomic than those equipped with other clamps. The 82M-3E's sensors never need adjustment, even when the opening angle is changed, providing additional time savings.
Each of the 82M-3E Series clamps is available with a patent-pending hand lever on the right or left side for applications requiring manual loading. The levers feature the distinctive DE-STA-CO red handle and are adjustable for improved ergonomics.
To provide long life with minimal maintenance, each 82M-3E Series clamp features an enclosed body, sealed needle bearings and a completely enclosed sensor to prevent the intrusion of dust or debris. Repairs are simplified by the sensor cartridge's two-part design, which makes it possible to replace only the damaged component instead of the entire cartridge.
"Developing a new family of power clamps gave us the opportunity to step back and look at the product from the customer's perspective," explains Peter Schauss, DE-STA-CO global product director for power clamps. "As a result, we've come up with a best-in-class series of clamps that is flexible and easy for integrators to set up, and that will perform for the end user customer over millions of cycles with minimal maintenance."
The 82M-3E Series is available worldwide. It conforms to NAAMS and Euro mounting standards.
Related Glossary Terms
fixture


fixture

Device, often made in-house, that holds a specific workpiece. See jig; modular fixturing.