June 23, 2022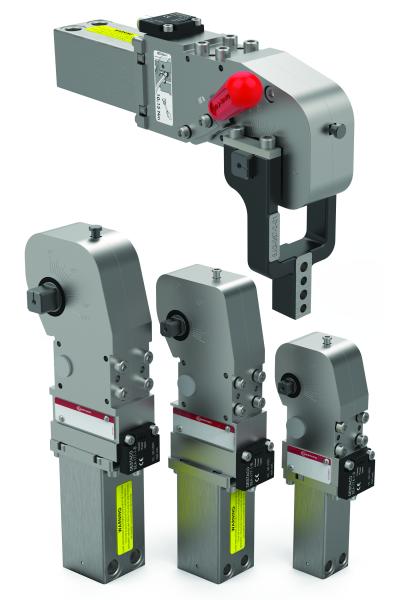 DESTACO is pleased to announce the introduction of its new 82L-3E Series Power Clamps, which feature a lightweight, enclosed aluminum housing and optimized mechanics that are more precise and significantly longer-lasting than previous power-clamp designs. The 82L-3E power clamps are a perfect complement to the 82M-3E models and are available in three versions with a holding-torque range of 75 Nm to 380 Nm, and clamping torques of 25 Nm up to 120 Nm at 5 bar.
"All of the clamps in the new 82L-3E series fulfill the stringent requirements for use in the sheet-metal processing and automotive industries, which can feature millions of working cycles," said Christian Schubert, Global Product Manager for Power Clamps Research at DESTACO.
In the event of a compressed-air outage during the 82L-3E's operation, the clamp can be unlocked manually. Additional flexibility is provided by an optional hand lever, which can be mounted on the clamp's left or right side. Multiple mounting surfaces also offer improved mounting and installation flexibility. The 82L-3E's modular structure simplifies the procurement of spare parts and reduces storage requirements, with the same clamp arms that are used with the 82L-2 Series Power Clamps also available as U, H and lateral versions.
When it comes to flawlessly clamping and positioning workpieces, the new flexible, adjustable and enclosed 82L-3E Series Power Clamps are the perfect choice for users. Specifically, the 82L-3E's opening angle can be quickly adjusted with just one tool, which helps guarantee maximum flexibility of use.