September 22,2016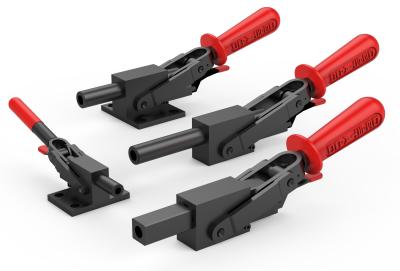 DESTACO announced its high-performance 5000 series manual toggle clamps have been enhanced with DESTACO Toggle-Lock Plus technology, providing increased safety for heavier-duty applications. Available globally, the new generation of 5000 series straight-line action clamps includes DESTACO Toggle-Lock Plus, a secondary locking mechanism, ideal for applications requiring high safety needs, such as grinding, welding, assembly, machining and metal fabrication.
"As safety and precision demands across heavy-duty operations continue to increase, workholding and automation performance will become more important," said Tom Stimac, sales manager, manual clamps, DESTACO. "Because our proven DESTACO Toggle-Lock Plus technology stops the 5000 series from being opened accidentally, we're able to better serve operations requiring extensive safety capability on a level that's unmatched in the industry."
Engineered specially for heavy-duty applications, the series includes horizontal and vertical hold-down clamps, and straight-line action clamps. Ideal for the welding, automotive, agriculture, and transportation industries, the 5000 series is equipped with ergonomic safety grips and forged clamping bars for higher strength. The clamps include:
Superior design to withstand harsh manufacturing environments in a wide range of heavy-duty applications
Hardened steel bushings
Non-rotating pivot pins for longer tool life
Versatile mounting with weld-on or bolt-on mounting bases
Related Glossary Terms
grinding


grinding

Machining operation in which material is removed from the workpiece by a powered abrasive wheel, stone, belt, paste, sheet, compound, slurry, etc. Takes various forms: surface grinding (creates flat and/or squared surfaces); cylindrical grinding (for external cylindrical and tapered shapes, fillets, undercuts, etc.); centerless grinding; chamfering; thread and form grinding; tool and cutter grinding; offhand grinding; lapping and polishing (grinding with extremely fine grits to create ultrasmooth surfaces); honing; and disc grinding.