Published
January 28, 2020 - 02:00pm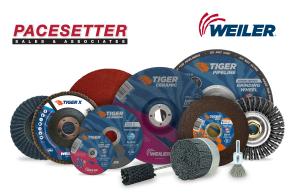 Weiler Abrasives, a leading provider of abrasives, power brushes and maintenance products for surface conditioning, announced that it has partnered with Pacesetter Sales & Associates, McKellar, Ontario. Through this partnership, Pacesetter Sales & Associates is representing Weiler Abrasives products and services in the provinces of Manitoba, Ontario, Quebec, Newfoundland, Prince Edward Island, Nova Scotia and New Brunswick.
"We're very excited about working with Pacesetter Sales & Associates," says Jason Conner, vice president of sales, in U.S. and Canada, at Weiler Abrasives. "The partnership supports our vision to be a global market leader in abrasives. Together, we will increase the level of support we provide to our distribution partners and offer value-added solutions to a wider range of fabrication and industrial production markets in Canada."
Weiler Abrasive Eastern Canada Sales Manager David Harrison will maintain his role, while also providing oversight and product training to Pacesetter Sales & Associates team members.
"All of us at Pacesetter Sales are very eager to be working alongside an industry leader like Weiler Abrasives. Working together with Canadian Distribution, we are very confident this new partnership will ensure that Canadian customers will be provided with not only best in class product, but also top notch service," says Craig Lindsay, president of Pacesetter Sales & Associates.
Related Glossary Terms
abrasive


abrasive

Substance used for grinding, honing, lapping, superfinishing and polishing. Examples include garnet, emery, corundum, silicon carbide, cubic boron nitride and diamond in various grit sizes.