February 21, 2019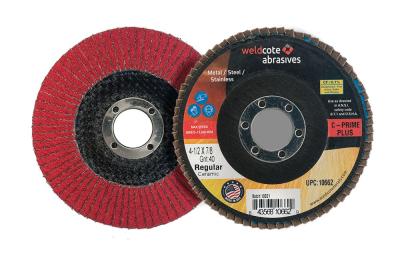 Weldcote Metals, a division of Zika Group, introduced its line of C-PRIME and C-PRIME PLUS ceramic flap discs. Weldcote's C-PRIME flap discs feature strong polyester backing for aggressive grinding applications that do not require excessive flexibility.
The C-PRIME PLUS flap discs feature a poly-cotton backing with high-quality ceramic grain, which provides excellent stretch and flexibility, while adding enough strength to maximize the aggressive cutting points of ceramic grain.
The ceramic grains in Weldcote's line of flap discs contain a grinding aid for cooler running temperatures, which reduces the risk of discoloration and heat-induced deformations of the final workpiece. These ceramic grains are also self-sharpening, which allow them to be used for longer periods of time than similar flap discs on the market. The C-PRIME flap discs are available in 4 1/2"and 7"sizes, and the C-PRIME PLUS flap discs are available in 4 1/2", 5" and 6"sizes.
"The C-PRIME PLUS flap discs feature a proprietary compressed design that gives the user a tough edge, increased performance and 50 to 60 percent higher stock removal rates over standard ceramic flap discs," said Joe O'Mera, CEO of Weldcote. "These increased removal rates can provide significant savings and increased productivity for our customers in the field."
Related Glossary Terms
backing


backing

1. Flexible portion of a bandsaw blade. 2. Support material behind the cutting edge of a tool. 3. Base material for coated abrasives.

grinding


grinding

Machining operation in which material is removed from the workpiece by a powered abrasive wheel, stone, belt, paste, sheet, compound, slurry, etc. Takes various forms: surface grinding (creates flat and/or squared surfaces); cylindrical grinding (for external cylindrical and tapered shapes, fillets, undercuts, etc.); centerless grinding; chamfering; thread and form grinding; tool and cutter grinding; offhand grinding; lapping and polishing (grinding with extremely fine grits to create ultrasmooth surfaces); honing; and disc grinding.