April 09, 2020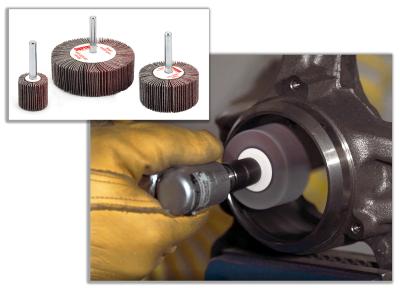 Superior Abrasives, LLC now offers custom flap wheels to suit specific application requirements. Customers desiring a specific material, grit pattern, flexibility of flap wheels, mounting options, and more can obtain precisely what they need. This customization allows manufacturers to match abrasives to their application requirements to more efficiently process the workpiece. Custom order available with industry-leading lead times. A fully stocked Application Engineering Lab and assistance to determine best methods and tools are available. Custom flap wheels from Superior Abrasives are ideal for contoured finishing and grinding, deburring and finishing of tube interiors, shaping or refining contours on cast or machined parts, weld seam blending or finishing, and more.
Related Glossary Terms
grinding


grinding

Machining operation in which material is removed from the workpiece by a powered abrasive wheel, stone, belt, paste, sheet, compound, slurry, etc. Takes various forms: surface grinding (creates flat and/or squared surfaces); cylindrical grinding (for external cylindrical and tapered shapes, fillets, undercuts, etc.); centerless grinding; chamfering; thread and form grinding; tool and cutter grinding; offhand grinding; lapping and polishing (grinding with extremely fine grits to create ultrasmooth surfaces); honing; and disc grinding.

shaping


shaping

Using a shaper primarily to produce flat surfaces in horizontal, vertical or angular planes. It can also include the machining of curved surfaces, helixes, serrations and special work involving odd and irregular shapes. Often used for prototype or short-run manufacturing to eliminate the need for expensive special tooling or processes.