August 16, 2018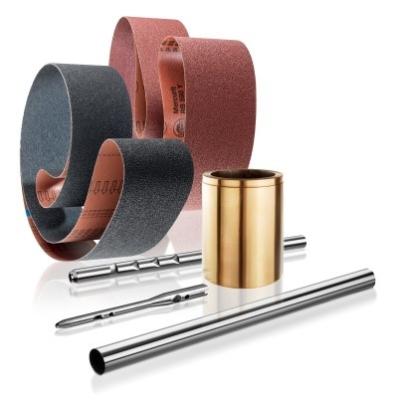 By Julian Ehnes, application engineer tube and rods, Hermes Abrasives
Pneumatic and hydraulic cylinders are omnipresent. Whether as compressed air cylinders on boot lids, on a lifting platform in the workshop or in highly complex machines that make modern construction projects possible. The following applies to all of them: They have high demands with regard to low-wear movement and a long service life. Therefore, the requirements for the fit between piston and seal represent a challenge for every piston rod manufacturer and are - in the truest sense of the word - real precision work.
All images courtesy of Hermes Abrasives Ltd.
The precise manufacture of a piston rod happens in numerous manufacturing steps. First, round steel blanks, for example made of stainless steel, heat-treated steel or structural steel, are produced to size. The surface is then optimally prepared for subsequent chrome plating. Chrome plating is followed by further surface treatment. Excellent grinding results in each of these process steps are an indispensable requirement for achieving the optimal surface quality of the workpieces.
Pre-grinding with bonded precision grinding wheels
For the production of piston rods, round steel blanks are first ground to size, depending on their condition and requirements. Bonded grinding wheels with a coarser grain size are used. The design of the grinding wheel specification is always customer-specific depending on the application. So in addition to ceramic or resin-bond fused grain tools, sintered corundum or silicon-carbide tools can also be used. Depending on the batch size and automation level of production, machining between centers or centerless is possible. The major advantage of centerless grinding is a grinding process with minimal downtime, so that high productivity is achieved.
Maximum surface quality thanks to optimally matched abrasive belts
Dimensional grinding is followed by intermediate and fine machining with coated abrasive belts. This is done on machines with several stations: Centerless grinding is used for workpieces with smaller diameters and grinding between centers for larger diameters.
The quality requirements for the workpiece surfaces before chrome plating are very high. This requires grinding sequences with numerous different grain sizes and the use of appropriate abrasive belts. The first stages are primarily concerned with the elimination of defects. Subsequently, the focus is on reducing roughness depths through to polishing at the end of the process sequence. A long service life of the abrasive belts with a constant surface quality is paramount for an optimal result and the economic efficiency of the grinding process.
Ceramic bonded grinding tools for dimensional grinding are created on the basis of customer-specific requirements.
Advantages of 3D abrasives in high-precision grinding processes
A cost effective approach to increase tool life, is the use of abrasive belts with a 3D structure. In contrast to conventional abrasive belts, new cutting edges are constantly created during the processing of the macro-geometric structure. This guarantees a high-quality and consistent result for the entire service life. The specific technology of 3D structures makes it possible to perfectly match the abrasive to the material to be processed and the process characteristics.
A variant of a 3D abrasive is the MERCURIT principle developed by Hermes. Its effectiveness is based on an agglomerate in which the individual abrasive grains are crosslinked within the grain bond by resin bridges. This abrasive grain agglomerate is conventionally spread onto the base coat and then a top coat is applied. The base and top coats penetrate into the still porous abrasive grain bond and provide additional stabilisation.
In Hermes' patented HERMESIT principle, however, hollow spheres coated with abrasive grains are used instead of abrasive grain agglomerates. In the course of the grinding process, these always produce fresh abrasive grains due to the continuous emergence of new break-off edges. This also occurs at lower grinding pressure.
Compared to conventional abrasive belts, all Hermes abrasive belts with a 3D grain structure offer a three to five times longer service life and thus significantly higher economic efficiency, which is reflected, for example, in shorter machine setup times and lower material and disposal costs. At the same time, they guarantee high process stability through constant roughness values and removal rates over the entire service life.
Special challenges in the intermediate grinding of piston rods
For the intermediate grinding of piston rods, abrasive belts are required which remove enough material to compensate for defects from the previous machining processes. At the same time, the roughness depth must be reduced with as few process steps as possible. These different requirements play a central role in the selection of the suitable abrasive.
The Hermes abrasive belt MERCURIT RB 591 Y is designed for medium- to high-pressure grinding processes. Due to additives in the binding system, the product is suitable for both dry and wet applications. When machining piston rods, it guarantees both the necessary stock removal and the required roughness values.
Comparison of grinding values Hermes-belt HERMESIT RB 535 Y, grain P 120, against a conventional grinding belt RB 377 YX, grain P 120. (Grinding machine: Loeser cylindrical grinding machine Material: stainless steel pipes (stainless steel 1.4301).
Certain machine or workpiece conditions only require low grinding pressure and therefore the agglomerate technology is not best suited. HERMESIT technology with the high-performance belt HERMESIT RB 535 Y is an alternative solution for low-pressure applications.
In a further intermediate grinding step, lower surface roughness must be achieved before chrome plating. Abrasive belts such as the MERCURIT type RB 598 Y are suitable for this purpose. These are so-called "softer bond agglomerates" in which the abrasive grains are flexibly bonded in a softer matrix. This results in both a grinding and polishing effect, which leads to a significantly brighter surface finish.
A similar effect can be achieved with cork abrasive belts, in which cork particles give a "cushion effect." Depending on the required final roughness values, grain sizes up to P 1200 are used. Ra values of 0.1 µm can be achieved with such fine grain sizes.
As a final step before chrome plating piston rods, final polishing may be required. This can be achieved with grinding wheels in polyurethane bond with an extremely fine grain size. The aim is to produce surfaces with very high quality, i.e. a final roughness values of Ra < 0.1 µm. At the same time, they should be spiral-free and high-gloss.
Hermes offers microlite polishing wheels in which a polyurethane-based binder interspersed with abrasive grain is formed into wheels of varying hardness and elasticity in a special process. Compared to conventionally bonded grinding wheels, the significantly softer and more flexible matrix of grain and bond allows the creation of surface characteristics that are unique in terms of low roughness and high degrees of gloss.
These microlite polishing discs meet the highest demands in terms of surface gloss and low surface roughness.
Maximum service life due to excellent friction properties
Firmly defined contact areas play a essential role in the excellent friction properties of piston rods. This is why the further processing of centerless external cylindrical grinding following chrome plating is extremely important. This eliminates any final chrome defects and achieves the quality of the final functional surface (Ra < 0.25 µm). The surface must have good frictional properties, but at the same time still be able to holde lubricants. This is the only way to ensure maximum service life and efficiency of the piston rod.
Implementing this with abrasive belts is a difficult task, which requires a high degree of experience and above all, the right grinding solution. The webrax-AN 702 fabric-reinforced corundum abrasive fleece, developed by Hermes, meets the requirements of this final process step and achieves an absolutely uniform, fine grinding pattern with the required roughness values.
Full-range suppliers meet all requirements
In the demanding production of piston rods, grinding tools with very special requirements are essential for each process step, which must meet the highest quality requirements. There are only a few manufacturers on the market who can supply such a complete and diverse range, of highly specialised tools, from a songle source. Hermes is one such supplier.
With a large number of 3D and conventional abrasives on various backings, cork abrasive belts and nonwoven abrasives in various shapes and designs, as well as bonded abrasives, Hermes Schleifmittel GmbH can meet every modern grinding process requirement. Application experts with many years of experience also work with customers to develop specific solutions that take optimal account of all individual conditions and thus guarantee the best results.