June 03, 2019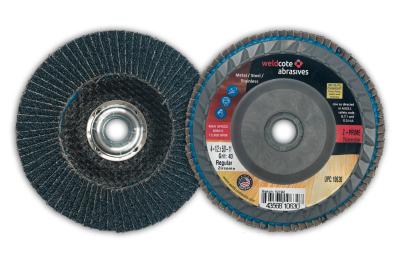 Weldcote introduces its line of Z-PRIME and Z-SOLID zirconia flap discs.
Designed for applications on carbon-based steels and stainless steel, Weldcote's Z-PRIME premium flap discs are manufactured of high-quality zirconia grain that provides fast metal removal. The zirconia technology incorporates an active grinding agent that provides cool cutting with light pressure.
Offering a high value-to-price performance, Weldcote's Z-SOLID flap discs feature long-lasting, high-density, chemically treated, zirconia aluminum oxide grains that allow for excellent metal-removal rates.
The Z-PRIME and Z-SOLID flap discs both feature a poly-cotton backing that is designed to provide increased grain retention and still provide flexibility and the ability to withstand the high pressure generated from a right-angle grinder. The Z-PRIME flap discs are available in 4", 4 1/2", 5", 6" and 7"sizes, and the Z-SOLID flap discs are available in 4 1/2", 5", 6" and 7" sizes.
"Our proprietary flap disc design, combined with our innovative manufacturing equipment, gives our flap disc users the fastest metal removal capabilities of any zirconia-based grain flap disc on the market," said Joe O'Mera, CEO of Weldcote. "Zirconia is the number one selling material grain in the flap disc marketplace, and the fact that our flap discs are manufactured in the U.S. is a huge competitive advantage."
Related Glossary Terms
aluminum oxide


aluminum oxide

Aluminum oxide, also known as corundum, is used in grinding wheels. The chemical formula is Al2O3. Aluminum oxide is the base for ceramics, which are used in cutting tools for high-speed machining with light chip removal. Aluminum oxide is widely used as coating material applied to carbide substrates by chemical vapor deposition. Coated carbide inserts with Al2O3 layers withstand high cutting speeds, as well as abrasive and crater wear.

backing


backing

1. Flexible portion of a bandsaw blade. 2. Support material behind the cutting edge of a tool. 3. Base material for coated abrasives.

grinding


grinding

Machining operation in which material is removed from the workpiece by a powered abrasive wheel, stone, belt, paste, sheet, compound, slurry, etc. Takes various forms: surface grinding (creates flat and/or squared surfaces); cylindrical grinding (for external cylindrical and tapered shapes, fillets, undercuts, etc.); centerless grinding; chamfering; thread and form grinding; tool and cutter grinding; offhand grinding; lapping and polishing (grinding with extremely fine grits to create ultrasmooth surfaces); honing; and disc grinding.