May 08, 2019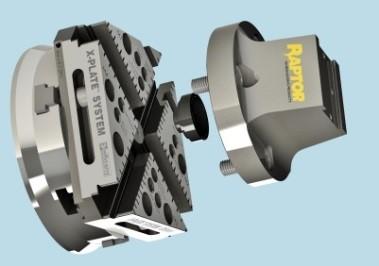 The X-Plate system from Mitee-Bite Products LLC is an extremely versatile modular fixturing platform for 3-, 4- and 5-axis applications, providing many mounting options including a precision quick-change system when clamped in a vise or T-slot table.
It includes a provision on the bottom for the Mitee-Bite diamond/taper locating pins to precisely mount to subplate, plus the primary function as a multifunctional face plate for indexers and 5-axis machining centers. The X-Plate system is designed to save time, material cost and provide more options when determining the best method for the next job.
Related Glossary Terms
centers


centers

Cone-shaped pins that support a workpiece by one or two ends during machining. The centers fit into holes drilled in the workpiece ends. Centers that turn with the workpiece are called "live" centers; those that do not are called "dead" centers.

face plate


face plate

Flat, round workholder with slots used to hold regular- or irregular-shaped stock. If stock is markedly asymmetrical, counterbalances may be needed to prevent vibration.

modular fixturing


modular fixturing

System in which fixtures are constructed from standardized, reusable components. Fixtures are assembled and disassembled quickly. Basic styles are subplate, dowel-pin and T-slot. See fixture; modular tooling.