October 01, 2021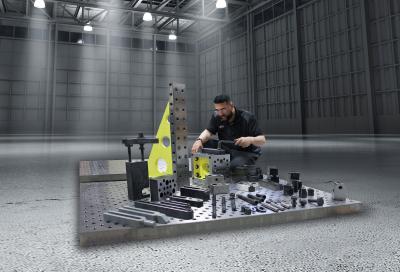 Bluco Corporation today announced the official release of a modular fixturing system designed to hold extra-large parts for CNC machining. The system is the company's largest modular fixturing solution to date, and the first complete line of its kind. The official name for the system is the 8024 Modular Fixturing Series, which designates 80mm grid spacing and 24mm nominal bore size.
Bluco's application engineers will use the new 8024 series to design custom solutions that raise the bar on fixture performance for manufacturers of large parts. The system delivers repeatable precision without the need for additional tramming and locating after installation, as well as a host of other benefits.
Greater Efficiency
The system was imagined for customers in industries such as agriculture, mining, locomotive, oil & gas or defense who routinely deal with large parts. Before today, the only way to take advantage of modular fixturing's versatility, accuracy and productivitywas to use a larger number of smaller components.
"You can absolutely hold huge parts with a kit of standard size modular components," says Bluco CEO, Scott Ellig. "But there are important benefits to using larger components to hold larger parts." A bigger system requires fewer components to do the same job, which reduces fixture set up time. And because of the sheer size of the system, it becomes easier to visually identify that each component is placed correctly.
"Load-and-Go" Capability
The system also reduces downtime between jobs. "Once the system is installed, you don't have keep tramming and locating over and over," says Senior Engineer Garrett Gordon. That's a major benefit when working with heavy parts and modular components. "Just like our other machining fixturing, you can just load and go. That makes a big difference in day to day operations, because preparing for the first part literally means you're ready for every other one," he says.
In part, this efficiency is made possible by the baseplate that's part of every solution. "We customize a modular baseplate to fit each customers machine bed," says Gordon. "So instead of bolting a part directly to the machine bed, where you're only guaranteed accuracy in one axis or direction, now you're bolting to a plate that will give you accuracy down to thousandths of an inch in every direction. Obviously, that makes a big difference both in machine efficiency and final part quality."
Superior Accuracy & Improved Functionality
Bluco's engineering team went through an extensive research and development process in order to design each component, and an even more rigorous quality control procedure on the back-end. The result is a system that delivers a combination of advantages that haven't been available to manufacturers of large parts in the past:
Accuracy: +/- 0.015mm (+/- 0.0006")
Quality: Precision-ground components
Rigidity: Heavy pieces allow reliable clamping against a single component
Flexibility: One kit of extra-large modular components can be used to fixture multiple parts
Efficiency: Larger parts mean less components and faster fixture building.
Quick Implementation
Bluco manufactures a large portion of the new system's components, including the baseplates, in-house at their full-service facility. While preparing for launch, the team prepared by stocking inventory, so they could be ready to deliver on any fixture design. "We've already shipped several systems, and we have enough orders and interest that we're not planning to slow down on production any time soon," says Gordon.
"We have two goals that we're constantly working towards," says Gordon. "The first is to solve the customer's unique challenge.That means each fixturing solution is custom-designed by our application engineers using Bluco standard parts. If needed, we can also add custom-manufactured components to the mix," he says. Those custom parts are designed and manufactured on-site.
"Our second goal is to get a solution into the customer's hands quickly. We don't let the fact that it's a custom solution interfere with the fact that we have to deliver it on a reasonable timeline." Because it takes several months to produce something like a custom baseplate, Bluco stocks an inventory of loaner baseplates available allowing them to ship a solution in the same week an order is placed. The loaner baseplates can be borrowed until the customized plate has been delivered.
Consistent Results
For manufacturers of large parts who rely on complex standard fixtures, getting the same results from different shifts or different machinists can be difficult. Daily experience loading a part is the only way to master it, which limits who can do it successfully.
Bluco modular systems can eliminate inconsistency by reducing this reliance on tribal knowledge. Because CAD models of modular fixtures can be accessed from the floor via work instructions, smart tablet or computer, previous experience is less of an issue. "Our fixturing is comparable to a well-written program. If you have a reliable program, and you run it as it's intended, the part will come out right. It's the same thing with fixturing: set it up as intended, and the part will come out right. There's a great deal of comfort to be gained from that," says Bluco's CEO, Scott Ellig.
Unique Proving Process
Manufacturers looking for an extra-large modular fixturing system can begin by connecting with an engineer at Bluco.com/start-here. Once the challenges have been identified, and a solution proposed, potential customers are invited to test their customized modular solutions in an on-site Validation Center (VC) before making any decisions to purchase or rent.
"Whether you ship the part to us or just send a CAD model, you can come in to put your hands on the fixture and work with it," says Gordon. "It gives you a chance to feel how the parts go together and to see the precision of the fixture," he adds.
In some situations, where transportation of a large part isn't practical, or when the team vetting the solution is too large to make the trip to the VC, customers may request a live demo. "The way we work with potential customers stems from our company culture. It's not in our DNA to just tell a customer something that we could instead show them," says Gordon. "We work to buildpartnerships, and that takes a lot more than just telling someone we can do the job. We've got to prove it, and that's what theValidation Center, or a visit to a customer, is all about."