July 10, 2019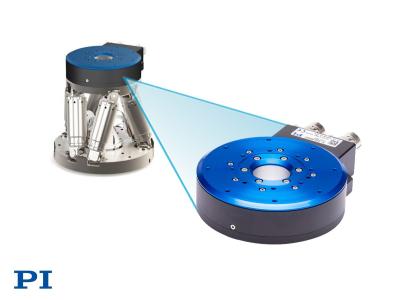 PI expands its PIMag series of high dynamics linear and rotary positioning systems with a new high-performance rotation stage. The V-610 is equipped with a high-force 3-phase torque motor direct incremental encoder for position feedback and closed-loop operation.
Direct-drive torque motors do not require gears and mechanical components, eliminating friction in the drivetrain. Despite its compact size, the ironless motor provides a peak torque of 1.2Nm (10.6 in-lbf). Ironless motors provide smoother running with better velocity control due to the lack of cogging effects caused by permanent magnets.
The torque motor provides maximum angular velocity of 540°/sec (90 rpm). The integrated direct measuring optical encoder resolves angular motion down to 9µrad. In closed-loop operation, minimal incremental motion of 27µrad can be achieved. To hold a position without the need to keep the motor energized, an electromagnetic safety brake is offered as an option.
The V-610 features a low profile of only 28mm (1.1 inch) allowing integration into tight spaces. The clear aperture of 25mm (1") is an advantage in transmissive-light applications. The V-610 can also be combined with PI's H-811 hexapod 6DOF parallel positioner, adding unlimited rotation to this compact 6-axis alignment system. An adapter plate for optical tables is also available.
A variety of precision motion controllers are offered, from modular to bench top devices. For the highest performance, PI recommends the ACS product line of EtherCat compatible precision motion controllers.
Related Glossary Terms
parallel


parallel

Strip or block of precision-ground stock used to elevate a workpiece, while keeping it parallel to the worktable, to prevent cutter/table contact.