October 11, 2018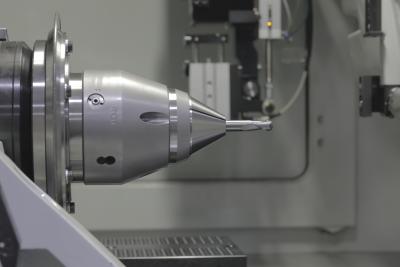 ANCA second-generation PremierPlus technology ensures consistent and efficient tool runout. With three times greater clamping force, tools are held more securely when grinding, increasing the consistency of tool geometry across a batch of tools. As the clamping force is increased it means more force is required to open the collet. This is enabled by a hydraulic pressure intensifier unit at the rear of the PremierPlus Adaptor used for this purpose.
Simon Richardson, ANCA product manager said: "The PremierPlus has been designed to control tool runout as it enables operators to radially adjust the collet via adjustment screws. As the clamp force is preset via the preload of the clamping mechanism inside the adapter, the operator does not need to remove the adapter from the machine when changing the collet.
"Simplifying the grinding process reduces set-up time and saves money. Adjusting the preload of the internal clamping mechanism ensures that larger-diameter tools can be rigidly held particularly when fluting tools at higher grinding forces."
PremierPlus Collet Adaptor gives a cutting edge
Consistent and repeatable tool runout of ≤ 5 microns during production runs.
Rigid clamping improves quality of the finished tool.
Easy setup means less downtime.
Can be retrofitted for existing MX, TX and FX machines in the field with no need for modifications to the machine headstock.
Related Glossary Terms
collet


collet

Flexible-sided device that secures a tool or workpiece. Similar in function to a chuck, but can accommodate only a narrow size range. Typically provides greater gripping force and precision than a chuck. See chuck.

fluting


fluting

Cutting straight or spiral grooves in drills, endmills, reamers and taps to improve cutting action and remove chips.

grinding


grinding

Machining operation in which material is removed from the workpiece by a powered abrasive wheel, stone, belt, paste, sheet, compound, slurry, etc. Takes various forms: surface grinding (creates flat and/or squared surfaces); cylindrical grinding (for external cylindrical and tapered shapes, fillets, undercuts, etc.); centerless grinding; chamfering; thread and form grinding; tool and cutter grinding; offhand grinding; lapping and polishing (grinding with extremely fine grits to create ultrasmooth surfaces); honing; and disc grinding.