March 17, 2020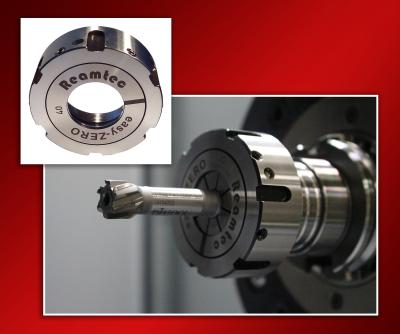 Monaghan Tooling introduces the newest version Reamtec easyZERO runout compensation nuts, with improved precision to allow for up to 0.002" (0.050 mm) runout to be dialed in easily and quickly. Users can correct runout errors and misalignment for all round tools using ER collets in just minutes, with virtually no scrap.
Installed with ease, the innovative replacement nuts feature six adjustment screws that allow for more accurate machining, creating parts tighter to tolerance and with better surface finishes, especially on difficult parts. By controlling runout, users spend less time tapping and resetting tools and collets, which increases production capability, saves time, and reduces scrap and out-of-tolerance parts. Concentric cutting equally distributes the chip load, leading to longer tool life and lower tool costs for reamers, drills, end mills, and round tools where runout is a concern.
Monaghan Tooling Group provides five sizes of Reamtec's easyZERO compensation nuts to fit ER16 to ER40 collets. The easyZERO nut is available along with a Hex Key, spanner and ER collet in four different kits.
Related Glossary Terms
collet


collet

Flexible-sided device that secures a tool or workpiece. Similar in function to a chuck, but can accommodate only a narrow size range. Typically provides greater gripping force and precision than a chuck. See chuck.

tapping


tapping

Machining operation in which a tap, with teeth on its periphery, cuts internal threads in a predrilled hole having a smaller diameter than the tap diameter. Threads are formed by a combined rotary and axial-relative motion between tap and workpiece. See tap.

tolerance


tolerance

Minimum and maximum amount a workpiece dimension is allowed to vary from a set standard and still be acceptable.