September 18, 2019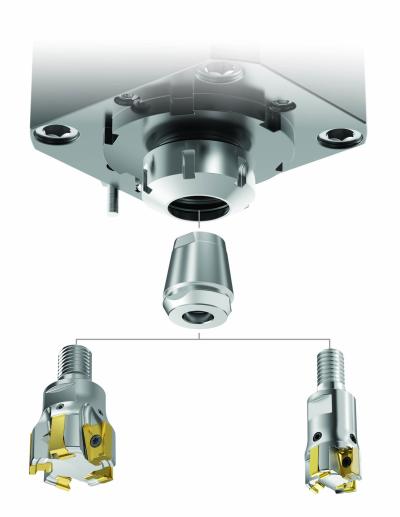 Kennametal announced an expansion of the turret-adapted clamping units (TACU): ER-ready driven units in conjunction with a line of solid ER collets that are threaded to accept screw-on milling cutters.
"Together the new TACU ER units and the solid ER collets are a great marriage of technology. Available in sizes ER25 through ER40 with thread sizes ranging from M08 through M16, this innovation provides machining center-like capabilities to your live tool lathe. These new products provide the flexibility to use standard ER collets with solid endmills or the new solid ER collets together with screw-on indexable milling cutters," said Ronald West, manager, tooling systems.
Sealed for through-the-tool coolant and there is a 1 mm standoff for additional clearance on larger endmills with a precision-ground locating boss for minimal runout. It's a compact design, reducing the chance of interference on smaller machines. Compared to a standard spring-style ER collet, they're very rigid, so you can take heavier cuts.
The TACU offering can be used on seven leading brands of CNC lathes, both VDI and bolt-mounted turrets (BMT) with a variety of static and driven blocks. TACU's are equipped for internal and external coolant, with up to 12,000 RPM possible on specified driven tools. "This addition greatly increases the capabilities of our TACU offering," West said.