August 26, 2022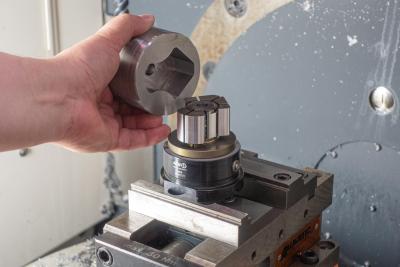 At the AMB trade fair, Andreas Maier GmbH & Co. KG (AMF) is exhibiting a new collet for internal clamping. This new product consists of a basic element and an attachment for internal clamping. Users can adapt this clamping attachment to suit the internal contours of their workpieces. This unique clamping technology enables even workpieces with blind holes to be clamped safely and without distortion. A clamping control feature provides feedback about the workpiece being clamped securely.
"The clamping screw on the side means that users can also internally clamp workpieces without a through hole. That is as compelling an argument as our unique clamping control feature", asserts Silvia Herold, Product Manager at Andreas Maier GmbH & Co. KG in Fellbach. At the AMB trade fair, the clamping technology experts from Fellbach are showcasing their latest product, an internal clamping collet. This consists of a basic element that can be clamped to the machine table using one of four different options. The collet attachment for this is hard-anodised. It is available in two sizes with external diameters of 70 mm or 99 mm.
Unique clamping control for enhanced safety
Users can machine this collet attachment to adapt it to match the internal contour of the workpiece they are clamping. However, what makes this new exhibit from AMF so special is that no through holes are needed in the workpiece to achieve safe internal clamping. With mechanical lateral actuation, workpieces with a blind hole can also be clamped securely and without distortion. As a unique feature, this basic element is also equipped with a clamping control unit made of stainless steel. This enables users to establish that the workpiece really is clamped properly. This significantly improves process reliability.
By adapting the collet attachment to the internal contour of the workpiece, free-form contours can be clamped safely and securely. The minimum diameter is 32 mm. During the adjustment process, a retaining ring ensures that the workpiece can then be clamped securely for the next process. The minimum clamping depth measures ten millimetres. Depending on variant, the maximum clamping depth measures 40 or 44 mm respectively.
Flexible with four mounting options
To secure the basic element to the machine table, it has a circumferential clamping rim. Flat surfaces on the sides enable it to be mounted in the machine vice. Alternatively, it can be secured in the machine table using T-slots. In addition, there are base mounting points, sizes K10 and K20, for the AMF Zero-Point-System, as well as indexing grooves for the positioning of AMF zero-point clamping modules. The mechanism in the basic element is protected against dirt and cooling water. At the AMB trade fair, AMF is showcasing the collet for internal clamping as the logical further development collet for external clamping from the same series. The basic element can be used for both collet attachments.
Related Glossary Terms
collet


collet

Flexible-sided device that secures a tool or workpiece. Similar in function to a chuck, but can accommodate only a narrow size range. Typically provides greater gripping force and precision than a chuck. See chuck.

flat ( screw flat)


flat ( screw flat)

Flat surface machined into the shank of a cutting tool for enhanced holding of the tool.

reaction injection molding ( RIM)


reaction injection molding ( RIM)

Molding process that allows the rapid molding of liquid materials. The injection-molding process consists of heating and homogenizing plastic granules in a cylinder until they are sufficiently fluid to allow for pressure injection into a relatively cold mold, where they solidify and take the shape of the mold cavity. For thermoplastics, no chemical changes occur within the plastic, and, consequently, the process is repeatable. The major advantages of the injection-molding process are the speed of production; minimal requirements for postmolding operations; and simultaneous, multipart molding.