January 01, 2015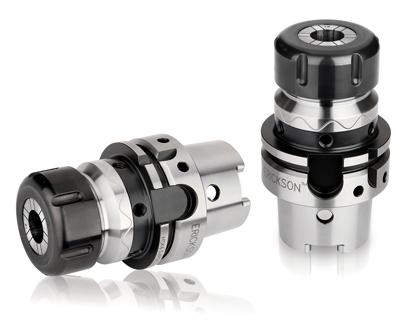 WIDIA says manufacturers of high-precision components (aerospace, transportation, die and mold, general engineering, and many more) wage a constant battle between producing high-tolerance parts and a "we-have-to-have-it-tomorrow" reality. WIDIA is announcing a significant new weapon to bring shops closer to victory, a universal, high-precision collet chuck offering use in multiple applications (milling, drilling, reaming, and tapping), while maintaining runout accuracies of 0.003mm (0.0001 inches) at 3xD.
Shops looking to upgrade performance and final part tolerance will welcome this chuck's features:
• Added versatility--the ability to continue using standard ER collets while upgrading to precision collets
• Thicker chuck walls and a stronger outer form for added rigidity and lower vibration for longer spindle and tool life
• Unique sealed-by-design precision collets (6 — 20mm or 0.24 – 0.79 inches) for excellent coolant delivery and longer tool life
• Better and repeatable balancing, all contributing to higher accuracy
Aerospace, die/mold and many other industries regularly encounter high-strength, difficult-to-machine materials requiring high torques, feeds, and forces. The danger of milling cutters being pulled out of the tool holder at these extreme forces has significantly increased. This is at least true for tool holders that offer precision clamping with good concentricity such as shrink-fit. Such toolholders work with frictional locking, but their clamping force is often not sufficient for roughing.
In response, the new WIDIA universal precision collet is available with Safe-Lock pull-out protection from Haimer. Helical grooves are ground into the shank of the milling tool that, together with the respective pin drivers in the chuck, prevent the tool from spinning or being pulled out of the holder altogether under extreme machining conditions. The helical path of the Safe-Lock grooves also allows for adjusting tool length, meaning tools can be reground and pre-set as usual.
Additional Products from WIDIA