December 12, 2011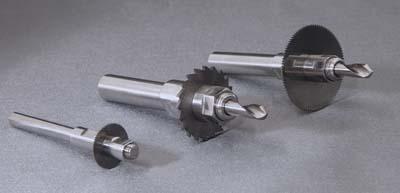 GenSwiss now offers a full range of precision and ultra-precision saw arbors and solid carbide slitting saws. GenSwiss Saw Arbors are furnished in a shank and hub configuration design that provides maximum rigidity and fit, to accommodate the smallest live tool positions such as an ER11 collet. NEW Ultra Precision Combination Arbors provide added flexibility to hold an extra tool such as an end mill, drill, engraving tool or spot tool to suit limited live tool position capacity while achieving added capabilities for maximum productivity.
Made to gage quality standards with a hardened and ground hub mount, GenSwiss Ultra Precision Saw Arbors offer run-out less than .0001" TIR. The nut design applies gripping pressure on the outside edge eliminating any chance of eccentricity from high spots. GenSwiss Saw Arbors are available in both inch and metric sizes. GenSwiss is also able to quote custom arbors.
In addition, the company offers Swiss made solid carbide slitting saws in extra fine tooth configurations with teeth counts ranging from 40-120 teeth per saw also feature superior surface finishes, ground side clearance for increased tool life and maximum performance for cutting hard materials. Special geometries and custom sizes are available upon request.