February 01, 2014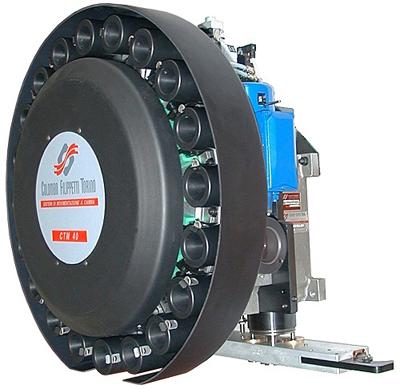 Automatic tool changers, type CTM are suitable for applications on NC milling machines, vertical and horizontal machining centers, CNC lathes, transfer machines, laser and plasma cutting machines. In addition, they are effectively applied on wood and granite routing machines and machines designed specifically for cutting extruded aluminium.
CTM tool changers are manufactured in 4 standard frame sizes and accommodate most types of tool holders.
Each CTM tool changer consists of:
A dual motion cam operated exchanger that performs the high speed and mechanically synchronized movements for grasping, extracting, exchanging and inserting the tools simultaneously between the spindle and the magazine, plus the release of the tool grippers. This entire high speed cycle is operated by one 3 phase, self- braking motor.
A mechanical exchange arm with dual "rapid-release" gripper hands and built-in safety interlocks.
The tool storage magazine, on which all tool holder pockets are hinged to enable a 90 deg. tilt during a tool exchange are assembled on a mechanical cam driven indexing table operated by a 3 phase self-braking motor, with an optional servomotor drive available on some models. The tool holder tilt unit is pneumatically operated as is the tool taper cleaning head actuated as the used tool is inserted back into the magazine. A built-in switch system guarantees precise tool holder identification and is used for management of the migrating tools. In addition, a dedicated tool holder to tool pocket identification management system is available upon request.
All CTM tool changers are fabricated using pre-engineered sub assemblies that are manufactured using state of the art steels, alloys and plastics so that they are durable yet lightweight and in many instances the tool changer assembly is attached directly onto the machine without affecting the machines performance.
The main characteristics of these self-contained CTM tool changers besides the simplicity, reliability and the cleanliness is the high speed tool exchange cycle itself which is determined by the pre-engineered cam mechanisms. The cams motion law has been studied and applied in the best way to obtain a fast and harmonic motion of the exchange arm. This exchange time varies from 0.6 to 5 seconds, depending upon the frame size of the unit, the tool weights and the length of the exchange are.