April 05, 2017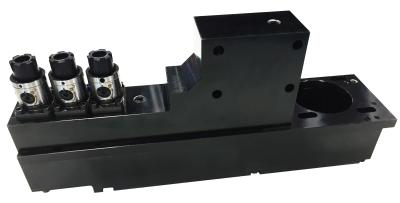 BENZ Inc. has introduced a new product called NanoFix, a modular quick-change system for Swiss lathe live and static tools applications.
"Manufacturers producing small parts for the aerospace, automotive and medical industries will benefit from the Nanofix, which reduces set-up and tool-change time by up to 40 percent," explained John Roasa, national sales manager, Metal Division, BENZ Inc. "It is engineered to provide all the characteristics and benefits of our popular BENZ Solidfix modular tool-changing system, but within a configuration ideal for confined space machining."
The BENZ NanoFix modular quick-change system is designed for Swiss-type tooling with a minimum spindle distance of 22 mm and makes it simple to change tools inside the Swiss lathe in as little as 15 seconds. Utilizing a Torx locking mechanism, the NanoFix adapter can be released and removed with one hand and a slight turn of the wrist. NanoFix is a smart alternative for hard-to-reach ER collets while providing greater rigidity than other quick-change devices. It features a high concentricity of 5 μm on 30 mm, repeatable accuracy, short projection and play-free centering of tapering. Tool changes can be facilitated with one hand. Nanofix adapters can be preset outside the machine offering the ultimate in production flexibility.
Related Glossary Terms
centering


centering

1. Process of locating the center of a workpiece to be mounted on centers. 2. Process of mounting the workpiece concentric to the machine spindle. See centers.

lathe


lathe

Turning machine capable of sawing, milling, grinding, gear-cutting, drilling, reaming, boring, threading, facing, chamfering, grooving, knurling, spinning, parting, necking, taper-cutting, and cam- and eccentric-cutting, as well as step- and straight-turning. Comes in a variety of forms, ranging from manual to semiautomatic to fully automatic, with major types being engine lathes, turning and contouring lathes, turret lathes and numerical-control lathes. The engine lathe consists of a headstock and spindle, tailstock, bed, carriage (complete with apron) and cross slides. Features include gear- (speed) and feed-selector levers, toolpost, compound rest, lead screw and reversing lead screw, threading dial and rapid-traverse lever. Special lathe types include through-the-spindle, camshaft and crankshaft, brake drum and rotor, spinning and gun-barrel machines. Toolroom and bench lathes are used for precision work; the former for tool-and-die work and similar tasks, the latter for small workpieces (instruments, watches), normally without a power feed. Models are typically designated according to their "swing," or the largest-diameter workpiece that can be rotated; bed length, or the distance between centers; and horsepower generated. See turning machine.