May 08, 2019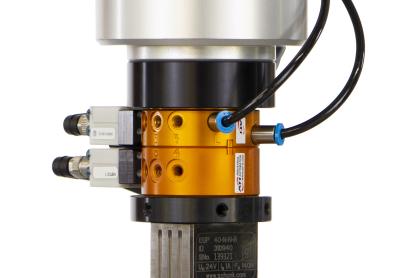 Big things come in small packages, and ATI Industrial Automation's QC-11 Automatic Tool Changer is no exception. The QC-11 is a vital component of many robotic applications and is now certified to work seamlessly with collaborative robots from Universal Robots, joining more than 150 products in the UR+ portfolio featuring plug-and-play solutions for UR cobots that help users get up and running quickly.
The QC-11 enables automatic exchange of robotic end-effectors without any manual intervention. With an ATI Automatic Tool Changer, a robot can utilize multiple end-effectors in a single process. ATI CEO Robert Little believes strongly in the power of partnerships: "Thanks to the exceptional UR+ certification program, ATI products can reach new users in the collaborative market," he says. "It is a great opportunity for us as a business, but the real winners are our customers. Through Universal Robots' stringent product qualification process, ATI products rise to a new standard of excellence. The collaboration between these two companies is genuinely more than the sum of its parts."
The QC-11 is the first automated tool changer developed in the Americas to obtain UR+ certification. When coupled, the master and tool weigh less than 0.25 kg (0.55 lbs), with a combined stack height of 52.4 mm (2.06 in). The small footprint of the robust QC-11 helps to optimize the robot payload and work envelope while supporting the maximum UR payload of 10 kg (22 lbs).
ATI's patented, pneumatically-actuated, fail-safe, locking mechanism provides strong, repeatable coupling under the rigors of industrial use. It also ensures that the tooling remains securely attached to the robot—even during a loss of air pressure. The QC-11 features six integrated M5 pneumatic pass-through ports. It allows for an optional, accessory mounted, M8 connector for up to eight pass-thru electrical pin connections. Users can incorporate a compatible pin-and-bushing tool stand for storage of the additional end-of-arm tools as well.
The UR+ program debuted in 2016 and has since grown rapidly to include 155 products from 400 companies active in the UR+ developer program. "Universal Robots is thrilled to welcome this continued expansion of UR+ certified products from ATI with the QC-11," says Stuart Shepherd, regional sales director for Universal Robots' Americas division. "ATI's commitment to product quality and customer experience is in perfect alignment with the vision of the UR+ program. We look forward to collaborating on future projects."
Related Glossary Terms
payload ( workload)


payload ( workload)

Maximum load that the robot can handle safely.

work envelope


work envelope

Cube, sphere, cylinder or other physical space within which the cutting tool is capable of reaching.