August 12, 2022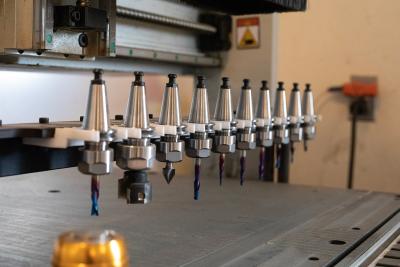 Tormach Inc., the industry's leading supplier of affordable and compact CNC machines, has announced it has introduced a new Automatic Tool Changer (ATC) for its 24R CNC Router. The new ATC features an ISO20 ATC Spindle with a 10-tool rack and automatic lifting dust shoe.
The new ATC is a valuable addition to the 24R CNC router. The ATC is integrated into Tormach's award-winning PathPilot CNC controller. Ideal for premium woodworkers and sign makers, the 24R is designed to accurately cut a wide variety of materials including woods, plastics, aluminum, and more. With an advanced control, rigid cast-iron bed, welded steel stand, water-cooled chiller, integrated vacuum table, and more than a 2' x 4' work envelope, it is the perfect choice for 2D and 3D cutting needs.
"The new ATC is designed for maximum efficiency," said Reid Halvorson, Lead Engineer for the 24R ATC. "It makes operators' lives easier by giving them the ability to multitask. And since the machine can automatically change tools, it reduces potential operator errors as well as scrap parts."
The ATC also features repeatable tool lengths, which provides faster tool changes. The new lifting dust shoe feature allows users to check the router's cutting action while the machine is running and leading into a cut.
Key specifications of the 24R ATC include:
1.Spindle Specs:

a.1.5 kW
b.10,000 – 24,000 rpm
c.ISO20 Spindle Taper
d.Integrated Power Drawbar
e.Integrated PDB (Power Draw Bar) Open Sensor.
Positive Air Pressure Spindle Nose Seal
g.Liquid cooled


2.ATC Rack Specifications:

a.10-Tool Capacity
b.Max Tool Diameter = 1.75"
c.Max Tool Gauge Length = 4.25"
As with all Tormach products, customers will receive free remote technical support for the 24R ATC via email, phone, and video chat.
Related Glossary Terms
computer numerical control ( CNC)


computer numerical control ( CNC)

Microprocessor-based controller dedicated to a machine tool that permits the creation or modification of parts. Programmed numerical control activates the machine's servos and spindle drives and controls the various machining operations. See DNC, direct numerical control; NC, numerical control.

work envelope


work envelope

Cube, sphere, cylinder or other physical space within which the cutting tool is capable of reaching.