June 06, 2016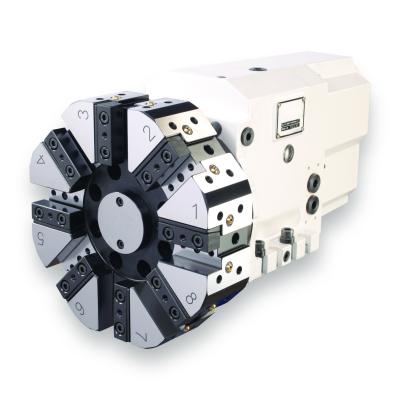 Automatic Tool Changers Inc. introduces a complete range of economical tool turrets for CNC lathes and turning centers, including replacements for the discontinued Dorian turrets as used on many HAAS TL series lathes. All turrets use a three-piece Hirth tooth coupling for high accuracy and maximum rigidity, plus allowing turrets to index without the tool carrier lifting.
The turrets can be used in any attitude and are totally sealed for use in the most demanding environments.
Disc-type turrets with "static" tooling are offered in six frame sizes fitted with an electro-mechanical, hydraulic or servomotor drive train.
Turrets with axial or radial oriented "live" tooling are also available in the most popular sizes prepared for either BMT or VDI tooling, standard spindles and toolholders.
Square tool post-type turrets with an electro-mechanical drive are offered in four basic frame sizes designed for use on flat bed lathes and VTLs.
To simplify the installation, ATC also offers an optional self-contained controller that allows automatic, semiautomatic and manual operation.