May 01, 2015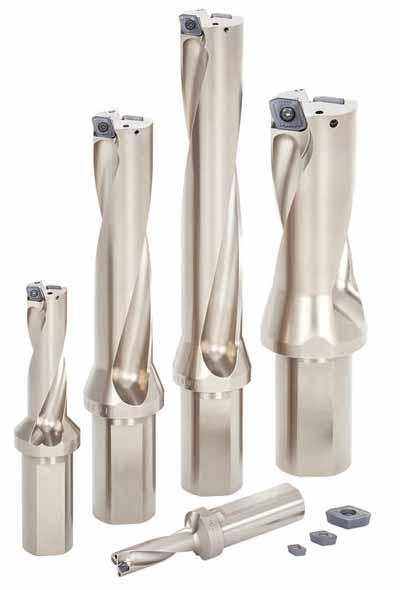 Tungaloy Corp. announces the expansion of newly designed drill bodies and new insert grades for TungdrillTwisted. The series has been well-recognized in the market for its excellent cutting performance since its release, according to the company.
The drill bodies deliver even more stability and efficiency in holemaking with high rigidity to withstand the deflection and the optimized balance in insert positions. AH9030 and AH6030 are Tungaloy's newest insert grades for holemaking where wear resistance and anti-oxidation are required. These grades, combined with the stability of the drill body, will deliver long tool life.
This expansion strengthens the TungdrillTwisted series helping customers increase their productivity and reduce machining cost.
Main features:
• Highly rigid drill body increases stability in machining.
• New grades with high wear resistance provide long tool life.
• Rich line-up of tools: Tool diameter ø .500" – ø2" (ø12.5 — ø54.0mm), L/D = 2 — 5
• Four types of chipbreakers are applicable for various workpiece materials. Twisted coolant holes provide excellent chip evacuation.
Related Glossary Terms
coolant


coolant

Fluid that reduces temperature buildup at the tool/workpiece interface during machining. Normally takes the form of a liquid such as soluble or chemical mixtures (semisynthetic, synthetic) but can be pressurized air or other gas. Because of water's ability to absorb great quantities of heat, it is widely used as a coolant and vehicle for various cutting compounds, with the water-to-compound ratio varying with the machining task. See cutting fluid; semisynthetic cutting fluid; soluble-oil cutting fluid; synthetic cutting fluid.

wear resistance


wear resistance

Ability of the tool to withstand stresses that cause it to wear during cutting; an attribute linked to alloy composition, base material, thermal conditions, type of tooling and operation and other variables.
Additional Products from Tungaloy America Inc.