September 06, 2023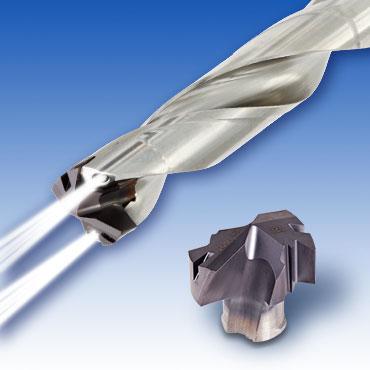 ISCAR is expanding the drill length options by adding the 12xD depth to diameter ratio, in a diameter range of 8 to 25.9 mm.
The DCN drills feature cylindrical shanks, which enable clamping of the drill in hydraulic toolholders (most recommended) or in spring collets. All drill bodies feature helical coolant holes. Prior to using the 12xD drill, it is recommended to drill a pre-hole by using a DCN 1.5xD drill or a centering drill.
The HCP drilling heads enable drilling with 12xD drills without the need for pre-hole preparation.
The drills can be used in clad plates. The 12 L/D ratio drills are commonly used in the heat exchanger and other industries.
Related Glossary Terms
centering


centering

1. Process of locating the center of a workpiece to be mounted on centers. 2. Process of mounting the workpiece concentric to the machine spindle. See centers.

coolant


coolant

Fluid that reduces temperature buildup at the tool/workpiece interface during machining. Normally takes the form of a liquid such as soluble or chemical mixtures (semisynthetic, synthetic) but can be pressurized air or other gas. Because of water's ability to absorb great quantities of heat, it is widely used as a coolant and vehicle for various cutting compounds, with the water-to-compound ratio varying with the machining task. See cutting fluid; semisynthetic cutting fluid; soluble-oil cutting fluid; synthetic cutting fluid.
Additional Products from Iscar USA