July 30, 2019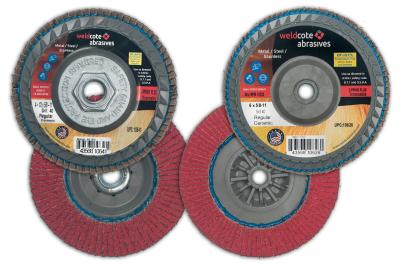 U.S.-made, premium trimmable flap discs are now available from Weldcote, a division of Zika Group. The ability to trim the back plate on flap discs allows operators to use the discs for a longer period of time, increasing disc life by up to 65%.
Constructed of nylon 6, the backing is durable, yet trimmable, and much more comfortable to work with than hard plastic. The backing also provides excellent flexibility, making it ideal for applications with corners.
Weldcote's trimmable flap discs are available in 4½-, 5- and 6-inch sizes, in both high-quality C-PRIME ceramic grain and high-quality Z-PRIME zirconia grain that promote fast metal removal. Both flap disc materials are offered with a patented 5/8-11-inch built-in hub and with a standard 7/8-inch arbor hole and both feature a compressed shape that was developed to increase product life and reduce inventory costs for the end user.
"Our line of trimmable flap discs has some key advantages for end users," said Joe O'Mera, CEO of Weldcote. "The nylon 6 backing, in particular, is more comfortable to work with and more durable than other flap discs, and our patented built-in hub contributes to the cost effectiveness."
Suitable for applications on carbon-based steels and stainless steel, Weldcote trimmable flap discs are light weight and easy to control, which results in less gouging of the metal material.
Related Glossary Terms
arbor


arbor

Shaft used for rotary support in machining applications. In grinding, the spindle for mounting the wheel; in milling and other cutting operations, the shaft for mounting the cutter.

backing


backing

1. Flexible portion of a bandsaw blade. 2. Support material behind the cutting edge of a tool. 3. Base material for coated abrasives.