November 22, 2019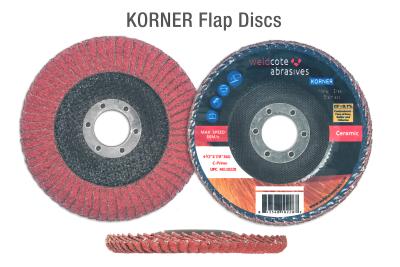 U.S.-made, premium, right-angle, Korner zirconia and ceramic flap discs are available from Weldcote, a division of Zika Group. The flap discs feature a unique design where the abrasive material wraps over the edge of the flap disc, allowing the user to grind aggressively into corners and other areas that are tight fits, including fillet welds.
Weldcote Korner flap discs are available in both high-quality zirconia and ceramic grains that promote fast metal removal. With a poly-cotton backing for superior flexibility, the zirconia Z-PRIME version is available in 4-1/2-, 5-, 7-inch sizes and in grits ranging from 36 to 80. The ceramic C-PRIME version, featuring a strong, polyester backing for longer life, is available in 4-1/2-inches and in grits ranging from 36 to 80.
Both flap disc materials are offered with a patented 5/8-11-inch built-in hub and with a standard 7/8-inch arbor hole and both feature a compressed shape that was developed to increase product life and reduce inventory costs for the end user.
Smaller, 2- and 3-inch size mini roll-on versions of the Z-PRIME zirconia flap discs are also available in six grits of each size, ranging from 36 to 120.
"The design of our line of Korner premium zirconia flap discs has key advantages for end users, including enabling them to grind aggressively in corners and tight spaces," said Joe O'Mera, CEO of Weldcote. "Our roll-on versions of Korner Z-PRIME flap discs will outlast competing quick change discs by up to 6 to 1."
Ideal for applications on carbon-based steels and stainless steel, Weldcote Korner flap discs are lightweight and easy to control, which results in less gouging of metal material.