September 05, 2019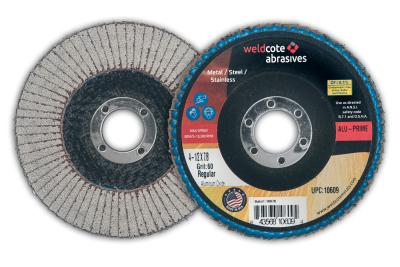 Weldcote offers its line of ALU-PRIME premium flap discs for applications on aluminum, other nonferrous metals and blending stainless steel. Offering a high value-to-price performance, Weldcote's ALU-PRIME flap disc design allows the discs to work longer and more effectively before needing to be changed out. A second-tier calcium stearate reduces material buildup between grains, helping to prevent the aluminum from loading. The flap discs also allow the end user to keep the work material cooler.
Weldcote's ALU-PRIME premium flap discs are manufactured of high-quality aluminum grain available with grits of 36 and 60 and feature a tough, heat-treated, polyester backing. The ALU-PRIME flap discs are offered in 4 1/2", 5" and 7" sizes, in a compressed profile design that was developed to increase product life and reduce inventory costs for end users.
"Our proprietary flap disc design, combined with our innovative manufacturing equipment, gives our ALU-PRIME flap disc longer life at a great value," said Joe O'Mera, CEO of Weldcote. "It's constructed with calcium stearate to reduce material buildup and delay material loading."
Related Glossary Terms
backing


backing

1. Flexible portion of a bandsaw blade. 2. Support material behind the cutting edge of a tool. 3. Base material for coated abrasives.