January 01, 2014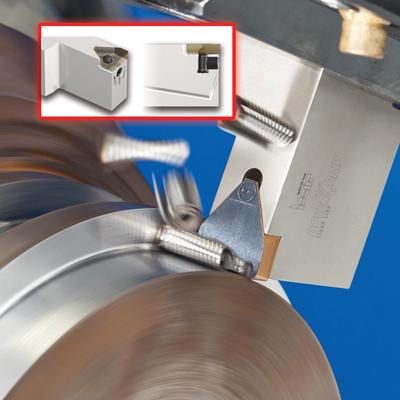 The DOVEIQGRIP line from Iscar Metals is an evolution of the successful TIGER wide grooving inserts family. The new line features a unique user-friendly locking mechanism designed for inserts in widths of 10, 12, 14, 16, 18 and 20mm and is made from SUMO TEC grade IC808.
The inserts can be mounted on integral shank tools or on blades with cartridges that provide additional security for the blades.
The integral shank tools are available in 25, 32 and 40mm square shanks. The cartridges were designed for 10, 12 and 14mm width inserts, mounted on 53mm blade size.
The new system provides excellent performance in deep, wide and heavy grooving operations.
Advantages include:
Very rigid dovetail clamping.
Unique, user-friendly (patented) frontal locking mechanism. Just a half-turn to lock the insert. In addition, there is no risk of falling parts, as there is no need to fully extract the screw, as in most available systems.
Unobstructed chip flow, because the tool has no upper clamp or jaw. Normally in grooving (especially in deep grooving), the chip flow prevents the coolant from reaching the cutting edge. ISCAR's new tools have a bottom frontal coolant K-type system (high pressure possible). This substantially prolongs tool life and improves chip formation.
The DOVEIQGRIP blades carry cartridges attached by a dovetail connection, providing very high rigidity. The system was designed so that in case of crash during machining, only the cartridge will be damaged. The cartridges also provide an economical protection solution, thus prolonging service life of the blades. The cartridge system can also be used for specials and exchangeable heads, providing savings on expensive tool cost.
Related Glossary Terms
coolant


coolant

Fluid that reduces temperature buildup at the tool/workpiece interface during machining. Normally takes the form of a liquid such as soluble or chemical mixtures (semisynthetic, synthetic) but can be pressurized air or other gas. Because of water's ability to absorb great quantities of heat, it is widely used as a coolant and vehicle for various cutting compounds, with the water-to-compound ratio varying with the machining task. See cutting fluid; semisynthetic cutting fluid; soluble-oil cutting fluid; synthetic cutting fluid.

grooving


grooving

Machining grooves and shallow channels. Example: grooving ball-bearing raceways. Typically performed by tools that are capable of light cuts at high feed rates. Imparts high-quality finish.

shank


shank

Main body of a tool; the portion of a drill or similar end-held tool that fits into a collet, chuck or similar mounting device.
Additional Products from Iscar USA