January 06, 2022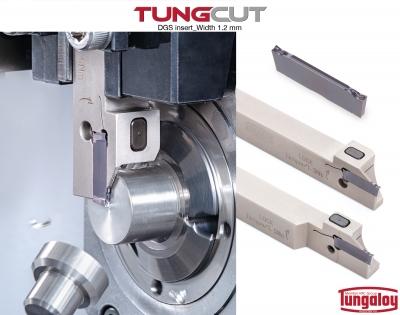 Tungaloy has added 1.2 mm-wide (.047″-wide) DGS-style grooving inserts to its TungCut multifunctional grooving system. 
For job shops that are mass-producing small parts with Swiss lathes, minimizing material waste in the part-off process can be an extremely effective solution for cost savings. New 1.2 mm-wide (.047″-wide) grooving inserts can reduce the material waste produced by parting-off by up to 40% when compared with using 2.0 mm-wide (.079″-wide) insert. This translates to, after 2,500 cuts, the saving of a 2,000 mm-long (78.74″ long) bar stock. 
The new grooving inserts feature DGS-style chipbreaker that generates smooth cutting and excellent chip evacuation. In combination with versatile AH725 grade, the insert ensures stable parting-off performances in a range of material groups. 
The toolholders, which are envisaged for the use on Swiss machines, are available in 10x10, 12x12, or 16x16 mm shanks. The insert is securely clamped in the seat by operating the screw located on the side of the holder, allowing the insert to be changed while the toolholder is still in the machine. This enables insert change time to be reduced to one third of the time conventional Swiss toolholders would require, significantly shortening machine downtime. 
In addition, toolholders designed for the machines with the sub-spindle are also available, aside from standard style toolholders. This ensures stable operation when parting off a short workpiece close to the chuck.
Additional Products from Tungaloy America Inc.