November 05, 2021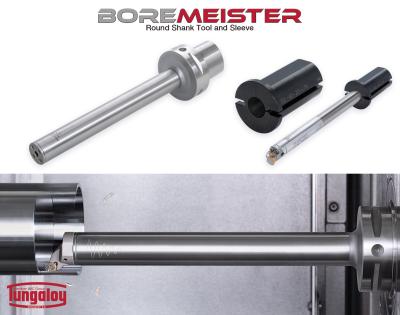 Tungaloy has expanded its BoreMeister exchangeable head deep boring tool system by adding three sizes of anti-vibration bars integrated with size C6 PSC machine-side connection, as well as reducer sleeves in six sizes for clamping stability and accuracy.
The new anti-vibration boring bars with C6 PCS machine side connection are suitable for up to 9xD boring depths, allowing direct assembly on the machine spindle or turret without the need for adapters. The boring bars can also minimize chatter as an integrated vibration damper suppresses unwanted vibrations during machining.
Also added are reducer sleeves with splits designed for holding anti-vibration boring bars in sizes 7xD and 10xD. When coupled with a boring bar and installed in the clamping unit or on the turret, these sleeves collapse to achieve maximum contact area, ensuring a full grip on the boring bar shank for much higher clamping stability than conventional direct screw-clamp method.
The BoreMeister system
BoreMeister system is supplemented with a variety of exchangeable heads and shanks for internal turning, threading, and grooving. The system ensures vibration-free boring operations in a long overhang setup of up to 10xD through a dampener inside the tool body. The serrated interface of the head shank connections provides the insert cutting point with high repeatability and accuracy.