October 02, 2020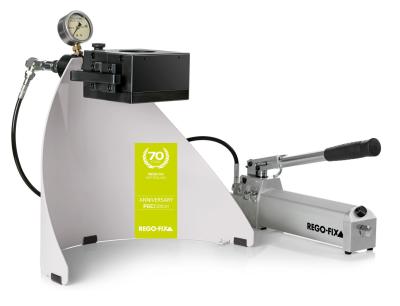 In celebration of the company's 70th anniversary, REGO-FIX USA will offer a special promotional package with its signature powRgrip® toolholding system. Available at a special price, the 70th Anniversary powRgrip Compact Package (PGC) Limited Edition includes everything necessary for shops to achieve the low total indicated runout (TIR) and precise length adjustment and repeatability necessary for fully secured operations and the best surface finishes available for part production.
The new set of packages allows manufacturers to get started with powRgrip as quickly as possible for their particular toolholding needs. Packages includes a PGC-A handpump clamping unit, five toolholders and 10 PG collets. Holders are available with CAT 40, BT 30, HSK-A63 and HSK-E40 interfaces with standard collets in PH10, PG15, and PG25 sizes. The PGC-A Special Compact Set is also available for separate purchase.
The powRgrip toolholding systems rely on the interference between holder and collet to generate their clamping force. Unlike other clamping systems where heat or hydraulics are used to expand the material, the PG uses the mechanical properties of the holder material to generate tremendous gripping force with runout below 0.0001" (3 μm), even after more than 20,000 tool insertions and removals. The PGC-A, as well as the PGU 9500 automated clamping unit, enables tool changes in less than 10 seconds without any heat or fumes, allowing tools to be used immediately.
Related Glossary Terms
collet


collet

Flexible-sided device that secures a tool or workpiece. Similar in function to a chuck, but can accommodate only a narrow size range. Typically provides greater gripping force and precision than a chuck. See chuck.

mechanical properties


mechanical properties

Properties of a material that reveal its elastic and inelastic behavior when force is applied, thereby indicating its suitability for mechanical applications; for example, modulus of elasticity, tensile strength, elongation, hardness and fatigue limit.