August 13, 2012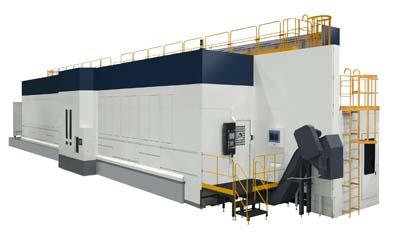 Makino announces its new A-Series 5-axis horizontal machining centers for high-speed, high-efficiency aluminum machining of large, thin aerospace structural components, including wing spars, wing panels and floor beams. This new family of aluminum machining centers includes the A4, A8, A12 and A20, each positioned for specific part lengths ranging from 4 meters to 20 meters.
"Makino's MAG-Series established the company as a leader in aerospace aluminum machining technologies, and since its release, we've continued to improve and expand upon our capabilities," said David Ward, Makino horizontal product line manager. "With the A-Series, we've focused on maximizing the average metal-removal rate throughout the machine process, improving spindle capabilities for heavy roughing, and optimizing linear and radial axis acceleration for pocketing and wall finishing. The result is a fast, highly accurate, highly predictable, 5-axis aluminum machining center."
A-Series machines come standardly equipped with a 33,000-rpm HSK-F80 spindle featuring a high-power output of 107 hp (80 kW). At peak power, the A-Series spindle can produce chip-removal rates up to 5,600 cm3/min (300 in3/min).
Supporting the powerful A-Series spindle is a compact, fully integrated A and C axis design. With plus or minus 110 degrees of tilt in the A-axis and an infinite degree of rotation in the C-axis, this spindle and head design provides 5-axis roughing and finishing capabilities and ideal part accessibility for deep pockets and side walls.
All A-Series machines share a common FEA column design to reduce weight while maintaining rigidity. Movement of the column along the X-axis is powered by eight linear motors with 0.8G acceleration. An extra-wide column base and dual-supported ball screws in the Y-axis ensure stability of the column and spindle during rapid axis movement.
Also featured in the A-Series is Makino's Volumetric Accuracy Compensation technology for improved tool-tip positioning accuracy. This technology provides in-process tool-tip corrections for sustained dynamic accuracy even in complex three-dimensional geometries.
The A-Series can also be equipped with an optional 120 kW spindle. This spindle maintains the same maximum rpm of 33,000 but delivers 50 percent more power, enabling increased metal-removal roughing rates to as much as 6,550 cm3/min (400 in3/min) in aerospace-grade aluminum.
Complementing the additional power, this spindle also provides through-spindle coolant capability, a first for the MAG-Series spindle design. With a through-spindle coolant pressure of 1.5 MPa, or 217 psi, this capability is extremely beneficial for chip evacuation during pocketing and reducing pecking requirements for improved drilling efficiency. Manufacturers also benefit from extended tool life as a result of direct tool cooling and added cutting lubricity.
The A-Series has an advanced spindle that also features Makino's third generation of Autonomic Spindle Technology (AST3). With AST3, the spindle uses displacement sensors to monitor forces against the spindle. During machining, the data from these sensors is evaluated in real time. If an unsafe load condition is detected, the AST3 reduces the feedrate to prevent damage to the spindle and tooling.
Additional Products from Makino Inc.