December 13, 2018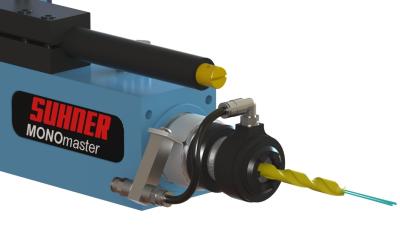 What is the main purpose for coolant application? Of course, among many reasons, primarily it's for the lubrication and cooling of the cutting edge and, in addition, to help facilitate chip evacuation. REGO-FIX has launched a cost-effective and efficient attachment for the application of coolant-lubrication liquids through the tool, based on an ER collet nut, which is suitable for use on SUHNER feed drilling units.
Optimizing the cooling and lubrication effect to help increase chip removal, tool life and performance requires the coolant-lubricant mix in direct contact with the cutting edge of the tool. Namely, for drilling operations, internal coolant becomes more and more essential. In the past, the application of an internal pressurized coolant-lubricant mix, especially for quill feed units, presented challenges and complications.
A new approach engineered by REGO-FIX is called reCool, where the coolant-lubricant mix enters the collet from the radial direction and then passes through the tool. It is simple and effective. Based on this idea, SUHNER adapted the reCool principle and designed attachments for the application of internal coolant liquids for its MONOmaster and MULTImaster families of quill feed drilling units.
Drilling with coolant through the tool applications typically allow for a 20 percent increase in surface cutting speed, which results in higher chip-removal rates and drastically reduces the machine cycle time.
This solution allows users to retrofit SUHNER quill feed units with internal coolant supply, even on existing machines in a very clever, uncomplicated way, thus providing increased benefits in machine efficiencies and production time.
Advantages:
Simple retrofit for existing quill feed units
Optimal cooling and lubricating at the tool
Up to 20 percent higher surface speed
Good chip removal
Optimal lubrication for every tool
No deflection or dissolving of coolant
Technical data:
Spindle speed up to 12,000 rpm
Coolant pressure: 50 bar/725 psi
Flow of coolant lubricates internal bearings
Used for internal and external coolant application