October 13, 2013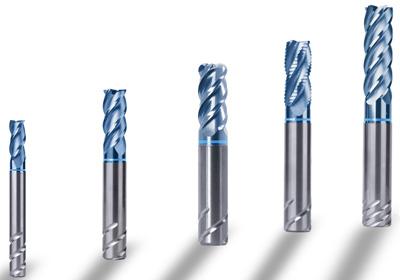 The HAIMER-developed endmill geometries are based on an unequal flute and helix design for chatter-free high-end machining, according to the company. All tools are coated with latest PVD technology and have an extremely smooth surface for enhanced chip evacuation.
The new HAIMER Power Mill range, with cutting diameters available from 2mm to 20mm, will be made available with 3, 4 and 5 cutting edges having multiple lengths of cut. To offer maximum flexibility in order to address the customers application requirements, different cutting edge solutions (sharp, chamfer and radius) will be offered. Also a roughing geometry with a cord profile will be part of the portfolio.
A typical HAIMER specialty is the high precision of the tools. All end mills are fine balanced and have a run-out of 5µm. All shanks are based on the h5 tolerance.
With the launch of the new Power Mill range HAIMER has expanded the Safe-Lock offering. Resulting from the wide spread and multiple customer requests for different application areas, Safe-Lock will be available starting from shank diameter 6mm.
Andreas HAIMER summarizes: "As the inventor of Safe-Lock, HAIMER steps up and offers this shank solution as a standard for all HAIMER Power Mill tools starting from shank diameter 6mm and intentionally gives up on plain round and Weldon shanks."
Due to the inherently balanced design, the Safe-Lock shanks can be clamped in standard shrink fit and collet chucks without any problems. HAIMER target is to have high availability and replace the Weldon system in the next 10 years. Whereas Safe-Lock not only supports roughing applications, but reportedly becomes a new universal solution that continues to find more and more use during HSC applications with high helix endmills.
Additional Products from Haimer USA LLC