February 12, 2019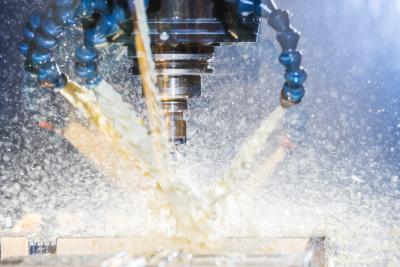 Chemtool Inc. announces NuSol 21 MW. The new metalworking fluid incorporates a proprietary process that promotes high productivity and minimal downtime for the user. NuSol 21 MW is a suitable replacement for general-purpose synthetic and semisynthetic metalworking fluids in machining and grinding applications and in central systems.
NuSol 21 MW is formulated with a preformed emulsion, based upon a high viscosity, high molecular weight hydrocarbon base stock that provides superior boundary lubrication. And the small particle size provides a very durable and uniform lubricant film, enhanced cooling, a clear running fluid, and exceptional hard water stability.
Features of NuSol 21 MW:
Very low VOCs/eliminates odors
Excellent corrosion protection for tooling, equipment and parts (even in hard water)
Exceptional lubricant film for good tool life and quality finishes
Extremely small particle size for superior wetting and excellent hard water stability
Rapid tramp oil separation for cleaner system operation
What makes NuSol 21MW different from other fluids? "NuSol 21 MW is unique in the industry. It has preformed micro-emulsion of very high viscosity oils and is much more stable. This makes it less subject to biodegradation in the sump. It also has better film strength and is meant to be a 'fighting grade' fluid for general machining of cast iron and steel," said Mark Warnock, fluids technical manager.
"It is a simplified formula that is specifically beneficial for job shops. It's an inexpensive, high-performance fluid with all the benefits of the NuSol line," he added. "It has excellent heat removal and low carry out, so there's less fluid loss (and replacement). NuSol 21 MW is a high productivity fluid for the end user. The customer uses significantly less fluid over time. They also lessen downtime by not needing to shut down their machine to clean windows, the machine tool itself, change the fluid, or the sump as often (since the fluid does not biodegrade as rapidly, and is off-white to translucent—making it much easier to see the machined part through the window)."
NuSol 21 MW is compatible with cast iron, carbon steel, tool steel and aluminum alloys, has a refract index multiplier of 3.5, high-pressure capability, is all metal safe and is excellent for milling, turning, sawing, drilling, reaming, tapping, OD/ID/centerless grinding and tube bending applications.