October 09, 2020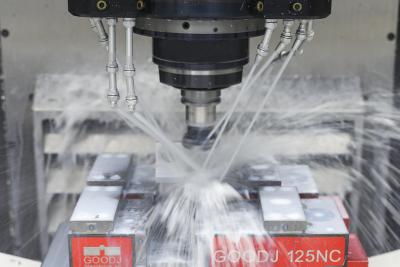 Simply effective is the best way to describe the latest coolant solution from Blaser Swisslube. B-Cool MC 600 is a modern, water-miscible metalworking fluid developed for the needs of large and small series production. Its sophisticated and economical formulation makes it an all-rounder that combines high material compatibility and machine cleanliness with a robust performance during the machining of steel alloys, cast iron, and aluminum alloys.
"Stable, cost-optimized processes are crucial in large and small series production," explains Stefan Freudiger, product manager at Blaser Swisslube. The demands made on machining technology are very high today, and productive and reliable production is vital. B-Cool MC 600 is a semi-synthetic metalworking fluid based on mineral oil that meets these requirements. Its sophisticated formulation ensures a stable emulsion that is low foaming also in high-pressure systems, and its good rinsing behavior keeps workpieces and machines clean.
For minimized process costs
The development team under Dr. Olivia Bossart, R&D chemist at Blaser Swisslube, has focused on an economical formulation that shows robust performance in universal machining applications. The strengths of the new coolant become fully apparent when machining cast iron, steel and aluminum alloys. B-Cool MC 600 demonstrates good material and machine compatibility and can be mixed with all water types. It contains no critical substances such as boron, chlorine, formaldehyde or sulfur. Dr. Olivia Bossart: "We only bring thoroughly tested solutions to market that offer our customers real added value. B-Cool MC 600 helps customers minimize their process costs." During the development phase, the R&D team was supported by the machining experts from the in-house technology center, where the new solution proved its performance in practical tests.
"Productivity, economic efficiency and process stability are factors that critically depend on the choice and the quality of your metalworking fluid. With our profound machining know-how and experience, customized services and excellent products, we help our customers fully capitalize on the potential of their machines and tools and turn their metalworking fluid into a key success factor – a Liquid Tool," says Stefan Freudiger in summary, expressing his approval of the latest coolant solution for customers producing large and small series.