June 12, 2012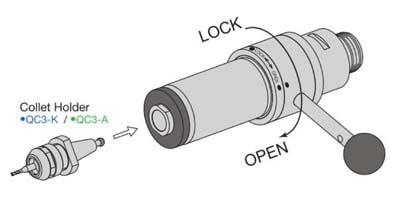 NSK America has introduced its high precision, NRR-3060 QC Spindle. The NRR-3060 QC now allows an end user to utilize preset tooling.
Designed to meet the needs of specialty and bench machining requirements, the NRR 3060 QC is capable of attaining speeds as high as 60,000 rpm while maintaining less than 1µm runout at the spindle taper. Designed to utilize up to a ¼" collet, the NRR 3060 QC provides for quick, easy and accurate tool changes without the need for wrenches. The tool holder has the ability to be placed in a preset adaptor which in turn can be put on a presetter unit to provide accurate information for the offset values of the tooling.
Related Glossary Terms
collet


collet

Flexible-sided device that secures a tool or workpiece. Similar in function to a chuck, but can accommodate only a narrow size range. Typically provides greater gripping force and precision than a chuck. See chuck.