June 12, 2018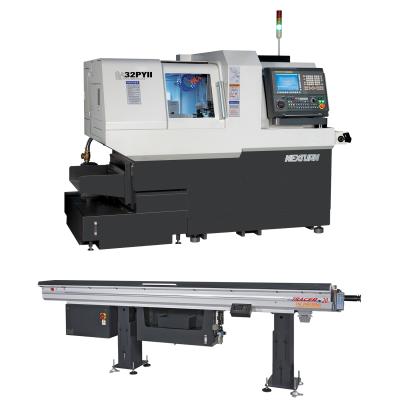 The Nexturn SA-32PYII Swiss-style lathe is a 32mm machine that comes standard with an exchangeable rotary synchronous guide bushing. This new model allows changeover from guide bushing to non-guide bushing depending on the application and material. Changing to non-guide bushing mode allows for the use of less expensive non-ground material and greatly reduces remnant length, saving material costs.
The lathe features up to 8 total axes (Z1, X1, Y1, Z2, X2, Y2, C1, C2) and up to 25 total tools. Machining capacity is 32mm on the main and sub-spindle, and 210mm (8") maximum turning length with guide bushing and 60mm (2.36") without the guide bushing. Nexturn Swiss machines use FANUC controls.
The machine is built for rigidity, accuracy, reliability, and ease of use. The highly rigid one-piece cast iron machine bed is designed using FEM software. Powerful motors for both turning and milling deliver outstanding machining capability. The use of ultraprecision pretensioned ballscrews and LM guides produce high accuracy. High-speed positioning of 1,260 ipm reduces cycle times.
The main spindle is a 10-hp, 8,000-rpm built-in motor spindle. The built-in motor provides outstanding acceleration/deceleration. The full C-axis on both main and sub spindles with 0.001-degree position and pneumatic disc brake clamping provide high rigidity for milling operation. The 5HP integral motor synchronous sub spindle allows simultaneous front and back working to be performed.
Powerful live tools sporting 3 hp and 6,000 rpm on the cross mill unit and 1.3 hp and 5,000 rpm on the backend face tools, provide excellent drilling and milling ability. A wide range of milling, drilling, and tapping can be performed. ER-16 collets for the live tools provide excellent rigidity. Rigid tapping is standard.
The synchronous rotary guide bushing features a dual bearing structure with high accuracy. It has strong and accurate bearing support on both ends. The guide bushing is spline shaft driven. The machine can be changed in about 45 minutes to non-guide bushing for short parts, to reduce remnant length, and for use with non-ground bar stock.