July 01, 2019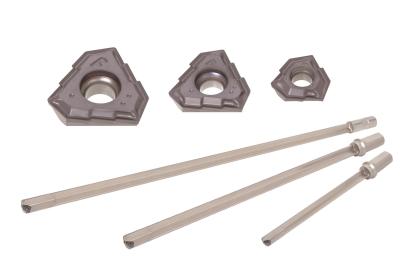 Tungaloy is introducing NDL geometry for TOHT inserts for the DeepTri-Drill line of indexable gundrills.
Dedicated gundrilling machines do not allow conventional DeepTri-Drills to effectively evacuate chips from the cutting point due to relatively low drill feed capabilities. This often results in problematic chip evacuation. The new NDL cutting geometry addresses this issue with its optimized chipbreaker design that ensures good chip control during slow feeding motion of the drill.
The NDL geometry incorporates optimal chipbreaker and splitters to provide the best chip evacuation when a high feed parameter is not available such as on gundrilling machines. Combined with the existing NDJ geometry which ensures superior deep-drilling performance at high feed rates, a comprehensive line of DeepTri-Drill is now able to better address the needs of customers seeking productivity and stability in every deep hole making operation.
At a glance
Ensures best chip evacuation at feed rates of ≤ 0.1 mm per rev
Ideal for any low power machines with limited feed capability such as gundrilling machines
Six inserts to be added in this expansion
Related Glossary Terms
chipbreaker


chipbreaker

Groove or other tool geometry that breaks chips into small fragments as they come off the workpiece. Designed to prevent chips from becoming so long that they are difficult to control, catch in turning parts and cause safety problems.

feed


feed

Rate of change of position of the tool as a whole, relative to the workpiece while cutting.

gundrilling


gundrilling

Drilling process using a self-guiding tool to produce deep, precise holes. High-pressure coolant is fed to the cutting area, usually through the gundrill's shank.
Additional Products from Tungaloy America Inc.