June 13, 2017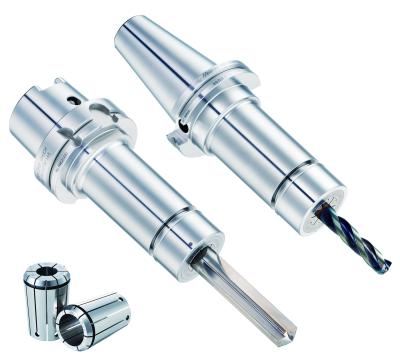 BIG KAISER's Mega New Baby Chuck is now available up to 1"-dia. clamping for drills, reamers and finishing endmills with 0.00004" runout accuracy. The Mega New Baby Chuck is a high precision and multiple-purpose collet chuck system. It is designed for high-speed cutting and guarantees a 1 micron runout at the collet nose.
The Mega New Baby is suitable for cutting tools with a diameter up to 25.4 mm and its high-speed design is offered in six different collet series sizes. These precise and versatile collet chucks are well accepted and recognized for their accuracy in high-speed applications.
Ideal length and diameter of the holder is the key to precision machining. If selection is limited, an increased tool extension reduces performance. BIG KAISER has 353 different versions available as standard, making it easier to select the perfect one.
Mega New Baby Chuck 25N has a clamping range of 0.610"-1.000" in diameter. The thrust ball bearings eliminate distortion of the collet during tightening and the patented design prevents the ball bearings from moving at high speed.
Additional features include:
Available in BIG-PLUS (SK/BT), HSK and BIG Capto
Two-way coolant supply: Through tools or jet if tools don't have any holes
High runout precision of 0.003mm at 4xD
Every chuck is 100 percent inspected twice