May 18, 2017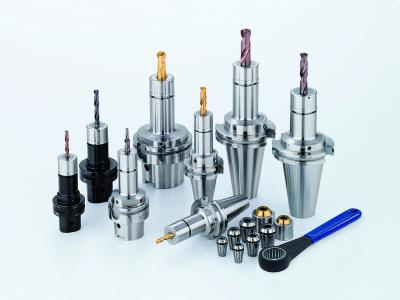 BIG KAISER says its Mega ER Grip was designed to outperform all standard ER systems in the four most critical areas of toolholder performance: clamping force, concentricity, rigidity and balance at high spindle speeds. All Mega ER holders are now sold without a standard clamping nut so that customers can choose the best clamping nut option for their needs.
BIG KAISER has expanded the line to include more options of BIG-PLUS, specifically BBT30, BBT40 and BBT50 tapers. These tapers are available in standard configurations of ER11, ER16, ER20, ER25, and ER32 to optimize tool projection and rigidity.
There are four clamping nut options:
Mega incorporates a ball bearing raceway and cylindrical outside diameter for the best performance, and accuracy. It is ideal for solid carbide drills and reamers.
Mega ER solid nut has a surface treatment for friction reduction. It has a cylindrical outside diameter, but does not have a ball bearing raceway and has a special friction coating to help collet clamping.
Standard has no coolant delivery system, no bearing nut and has surface treatment for friction reduction.
Mega ER Perfect Seal system allows users to optimize coolant flow and can high- pressure coolant up to 7Mpa.
Aside from the Standard ER nut, the three other options require the exclusive MEGA wrench to clamp or unclamp the tool. A standard hook spanner wrench can be used on the standard ER nut for clamping or unclamping.
All components of the Mega ER Grip system are manufactured with BIG Daishowa's high-precision production technology. BIG KAISER's Mega ER collets are made in accordance with DIN6499 and ISO15488 standards and runout accuracy is a guaranteed 0.00012" (3 microns) at 5 times diameter. Additionally, by utilizing the Mega ER Perfect Seal, coolant can be securely delivered through-tool or directed to the cutter periphery.
Related Glossary Terms
collet


collet

Flexible-sided device that secures a tool or workpiece. Similar in function to a chuck, but can accommodate only a narrow size range. Typically provides greater gripping force and precision than a chuck. See chuck.

coolant


coolant

Fluid that reduces temperature buildup at the tool/workpiece interface during machining. Normally takes the form of a liquid such as soluble or chemical mixtures (semisynthetic, synthetic) but can be pressurized air or other gas. Because of water's ability to absorb great quantities of heat, it is widely used as a coolant and vehicle for various cutting compounds, with the water-to-compound ratio varying with the machining task. See cutting fluid; semisynthetic cutting fluid; soluble-oil cutting fluid; synthetic cutting fluid.

toolholder


toolholder

Secures a cutting tool during a machining operation. Basic types include block, cartridge, chuck, collet, fixed, modular, quick-change and rotating.