February 01,2015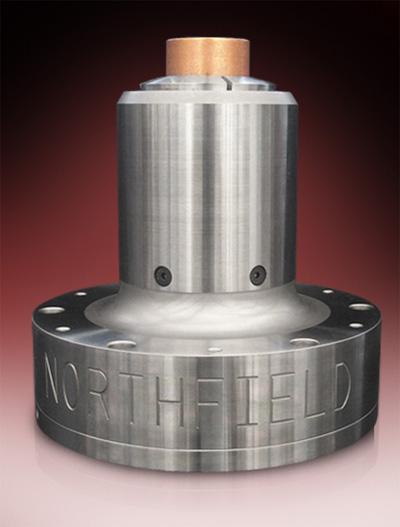 Northfield Precision Instrument Corp. introduces its newest expanding mandrel collet chuck. This chuck was custom-designed for a customer to clamp the minor diameter of an internal spline.
While clamped, the customer machines the internal counter bore, the outside profile and the face of the workpiece.
This chuck also includes air detect sensor holes and provides positive air blowout to keep chips and slurry away from clamping and locating surfaces.
Related Glossary Terms
chuck


chuck

Workholding device that affixes to a mill, lathe or drill-press spindle. It holds a tool or workpiece by one end, allowing it to be rotated. May also be fitted to the machine table to hold a workpiece. Two or more adjustable jaws actually hold the tool or part. May be actuated manually, pneumatically, hydraulically or electrically. See collet.

collet


collet

Flexible-sided device that secures a tool or workpiece. Similar in function to a chuck, but can accommodate only a narrow size range. Typically provides greater gripping force and precision than a chuck. See chuck.

mandrel


mandrel

Workholder for turning that fits inside hollow workpieces. Types available include expanding, pin and threaded.