December 08, 2016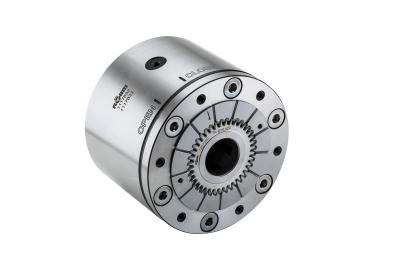 RÖHM Products of America now offers a powered external clamping chuck for gear surface face grinding. The KZF-S collet chuck is especially well-suited for clamping gears/workpieces that have an external plane or gear teeth geometries accessible from the outside. Additionally, the chuck allows faces and IDs to be turned or ground concentric to outer gear pitch diameters. The compact KZF-S chuck provides high clamping forces, optimal workpiece stability and maximum axial accuracy achieved via axial draw-in of the workpiece against a rigid work stop. The chuck maintains its centrifugal force for extremely smooth rotation of less than 0.01 mm.
KZF-S chucks have modular designs that feature case-hardened components for maximum versatility and low maintenance. The workholding system features a grommet for the integration of air or coolant and a sealed lubrication channel to eliminate chip penetration.
Available in three sizes, the KZF-S chucks accommodate diameters ranging from 30mm to 180 mm. A simple bayonet connector enables users to quickly retrofit clamping sleeves to different diameters, and an intermediate adaptor with adjustment screws enables DIN55026 or optional A5-A8 mounting.