July 10, 2018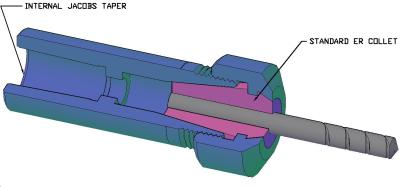 T.M. Smith Tool adds Jacobs taper rigid ER collet chucks to its family of Jacobs taper tooling. The new durable collet chucks are manufactured from premium grade, through-hardened steel.
The Jacobs taper and ER collet pockets are precision ground to provide TIR of 0.0002" or better. The T.M. Smith Tool says its ER collets chucks are superior to keyed and keyless drill chucks in concentricity and holding power.
Available with a Jacobs taper #1, #2, #33 and #4 (JIFFY), these holders are primarily used in drilling applications. They are compatible with standard Jacobs taper spindles and accept standard ER collets. The chucks are available in an ER16, ER20 and ER32 option. Specials are always available to meet customer-specific needs. ER collets are ordered separately.
Related Glossary Terms
collet


collet

Flexible-sided device that secures a tool or workpiece. Similar in function to a chuck, but can accommodate only a narrow size range. Typically provides greater gripping force and precision than a chuck. See chuck.

total indicator runout ( TIR)


total indicator runout ( TIR)

Combined variations of all dimensions of a workpiece, measured with an indicator, determined by rotating the part 360°.