August 16,2018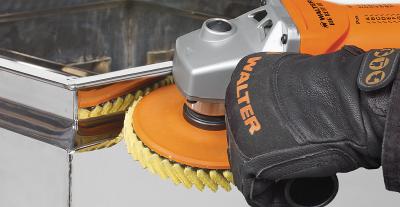 Walter Surface Technologies released two choices for polishing and finishing projects: Instant Polish for fast, single-step finishes and Ultimate Shine for superior mirror finishes.
Metalworking professionals can attain exceptional polishing results in a single, fast and easy step with Walter's new Instant Polish flap discs. Boasting powerful polishing properties and superior engineering, they can easily achieve No. 8 mirror finishes in a single step. As a result, workers can save more time and money. This latest Walter innovation is proven to lower metal roughness averages (Ra) by 20 microinches and achieve mirror finishes at Ra ratings of less than four microinches on tough polishing jobs.
"The science, research, and product development behind Instant PolishTM flap discs is second to none," explains says Jonathan Douville, senior product manager - Surfox, Finishing & Tooling at Walter Surface Technologies. "They offer longevity and exceptional engineering for consistently high-performance polishing in one quick and easy step."
Instant Polish flap discs are available in 4 1/2"- and 5"-dia. sizes for use at a maximum 7,300 rpm and optimal 2,000 rpm, and offer great performance in automotive, transportation, food and beverage equipment, aerospace, naval and pharma industries, and other sector-specific applications.
When ultrahigh-performance finishing capability is a priority, look to Walter's Ultimate Shine flap discs. As a second step towards achieving an exceptional mirror finish, Ultimate Shine flap discs ensure a consistent surface finish time and time again. These flap discs deliver definitive mirror finishes – with Ra ratings under 1 microinch. Long-lasting and versatile, Ultimate Shine flap discs deliver consistent capability on a range of finishing projects.
"The Ultimate Shine flap disc is similar to Walter's powerful Instant Polish flap disc," says Douville. "It's a high-performance, long-lasting and productivity-enhancing product. Quite simply, it's the ultimate finishing tool that helps our customers work better."
Ultimate Shine flap discs are available in 4 1/2"- and 5"-dia. sizes for use at a maximum 7,300 rpm and optimal 2,000 rpm. They are safe for use on stainless steel, steel and nonferrous metals when used with angle grinders.
Related Glossary Terms
finishing tool


finishing tool

Tool, belt, wheel or other cutting implement that completes the final, precision machining step/cut on a workpiece. Often takes the form of a grinding, honing, lapping or polishing tool. See roughing cutter.

metalworking


metalworking

Any manufacturing process in which metal is processed or machined such that the workpiece is given a new shape. Broadly defined, the term includes processes such as design and layout, heat-treating, material handling and inspection.

polishing


polishing

Abrasive process that improves surface finish and blends contours. Abrasive particles attached to a flexible backing abrade the workpiece.