October 14,2020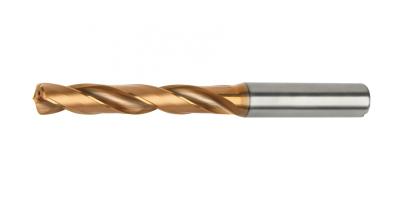 Kennametal has introduced an expansion of its solid carbide drilling portfolio, the HPR drill for high- performance drilling of cast iron workpieces. Designed for high-speed and high-feed drilling up to 8 x D in any ISO-K material, the HPR drill provides excellent hole straightness even at highest cutting parameters.
Winning features
The drill's patented point thinning, special gashing, and a 143°-point angle provide excellent self- centering capabilities and reduce thrust, keeping the drill running straight even at the highest feed rates. In addition, four margin lands deliver maximum stability when drilling cross holes and inclined exits.
The HPR solid carbide drill for cast iron components is available in diameters from 3.0 to 20.0 mm and lengths up to 8 x D.
A patented corner radius improves tool life significantly and provides excellent hole quality, meeting a hole tolerance range of IT9 to IT10 while effectively eliminating the workpiece chipping when exiting the hole.
"The drill's low-thrust point design gives users the option to apply the drill under less-than-ideal
Kennametal Inc. · 525 William Penn Place · Suite 3300 · Pittsburgh, PA · 15219, USA Contact: carsten.gromoll@kennametal.com · (+1) 724 539 8033 clamping conditions, or on thin walled applications, or simply when spindle power is the limiting factor," says Frank Martin, Product Manager, Kennametal.
Extensive testing has shown that this new drill is a solution provider for those types of challenges, as well as for high-volume cast iron production.
One of the key features of the HPR drill: The low-thrust drill point design for maximum hole straightness.
Outstanding wear resistance
The drill's proprietary AlTiN/AlTiSiN multilayer coating withstands the extreme abrasion and high thermal loads encountered when drilling gray cast iron, ductile iron, CGI, ADI, and GGG. The new coating is also resistant against the inclusions and pores commonly encountered in these challenging materials.
Ultra-high polished flutes and wide flute cross section promote efficient chip evacuation and further reduce heat and resulting thermal shock.
The new HPR drill comes with standard coolant through and with a DIN 6535 and 69090-03 MQL (minimum quantity lubrication) interface. With these features the drill excels in either wet or dry
Kennametal Inc. · 525 William Penn Place · Suite 3300 · Pittsburgh, PA · 15219, USA Contact: carsten.gromoll@kennametal.com · (+1) 724 539 8033 machining conditions.
"Whether drilling large quantities of holes or overcoming typical challenges in any type of cast iron workpiece, the HPR drill is clearly the solution," says Martin.
Patented corner radius for long tool life and excellent hole quality, as well as a wide flute cross section for hassle-free chip evacuation. Four margin lands provide maximum stability for cross-hole drilling and inclined exits.