January 23, 2018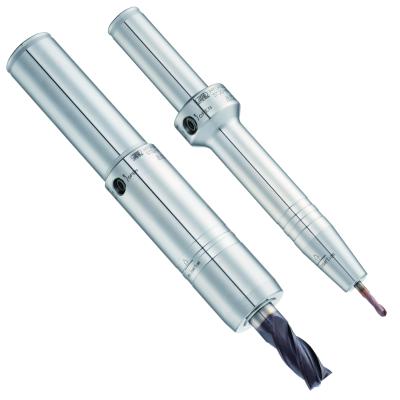 BIG KAISER announces its HDC Straight Shank holder to the market, used for increased versatility. The slim design provides superior balance, concentricity and is suitable for reaching into confined areas.
Hydraulic chucks are excellent toolholders for machining processes that require high accuracy such as drills, reamers, ball mills, endmills, diamond reamers and grinding tools. They are for high-precision machining in automotive, aerospace, medical, and die and mold.
HDC Straight Shank super slim holders can be clamped into other base holders to extend overall reach of the tool assembly and avoid the need for special tools. The slim nose design provides the necessary clearance for use with deep workpiece access, making them an ideal solution for 5-axis tool holding requirements.
The BIG KAISER HDC toolholders are simple to use; only one hex key wrench is needed to clamp or loosen the cutting tool, making tool changes fast and easy without special equipment. Every HDC toolholder is guaranteed to 0.00012" TIR at 5 times diameter. Optional straight collets can also be used to increase the range and versatility of each size.