April 01, 2010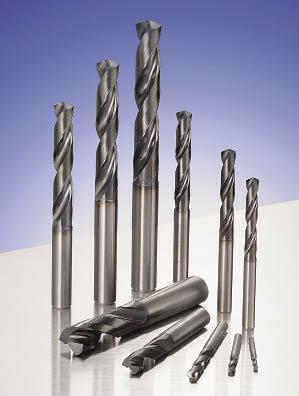 Sumitomo Electric Carbide Inc. says its GS series solid-carbide drills have an advanced substrate and wear-resistant DEX coating to allow increased feed rates and cutting speeds. The coating has alternately stacked aluminum-chromium and silicon-nitride layers to resist heat and chipping. According to the company, the point geometry reduces cutting forces and promotes stable drilling, and the wider flutes enhance chip evacuation. External coolant drills are available for making holes 2 and 4 diameters deep and through-coolant versions are for making holes 3, 5 and 8 diameters deep.
Related Glossary Terms
coolant


coolant

Fluid that reduces temperature buildup at the tool/workpiece interface during machining. Normally takes the form of a liquid such as soluble or chemical mixtures (semisynthetic, synthetic) but can be pressurized air or other gas. Because of water's ability to absorb great quantities of heat, it is widely used as a coolant and vehicle for various cutting compounds, with the water-to-compound ratio varying with the machining task. See cutting fluid; semisynthetic cutting fluid; soluble-oil cutting fluid; synthetic cutting fluid.

feed


feed

Rate of change of position of the tool as a whole, relative to the workpiece while cutting.

flutes


flutes

Grooves and spaces in the body of a tool that permit chip removal from, and cutting-fluid application to, the point of cut.