January 04, 2022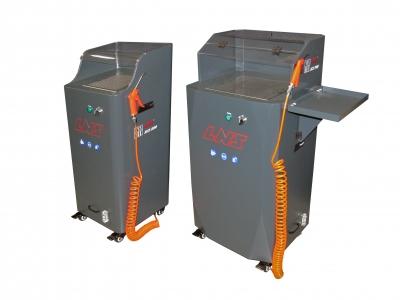 The LNS Fox SC2 700 Spray Cabin is the latest addition to the company's Air Filtration line. The new model, like the original SC2 330 Spray Cabin, makes cleaning oil and debris from machined parts safer and easier by use of a high-efficiency filtration system that eliminates more than 99% of contaminants (Afnor 440060).
Without a filtration system, compressed air blows oil and debris into the air and onto work surfaces, creating an unhealthy and unsafe working environment. LNS Fox SC2 Spray Cabins eliminate fine aerosol mists by drawing air through a washable pre-filter and a high-efficiency, long-life, easily accessible main filter.
The LNS Fox SC2 700 Spray Cabin uses a powerful, low-noise, single-phase fan motor to produce 530 CFM air flow. A handy side tray holds multiple parts to speed the cleaning process.
Both models have 4 caster wheels for easy mobility, a neatly stored 15-foot air gun, and a compact design that occupies minimal floor space.